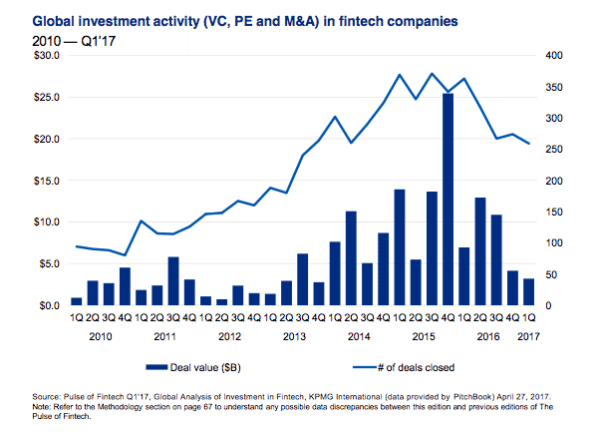 KPMG has published their most recent Pulse of Fintech covering the global Fintech industry during Q1 of 2017. According to their numbers, global investment in Fintech topped $3.2 billion accross 260 deals the first three months of the year.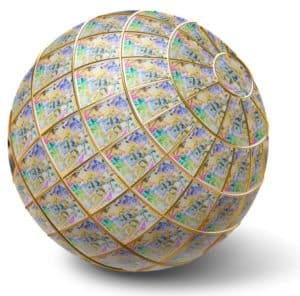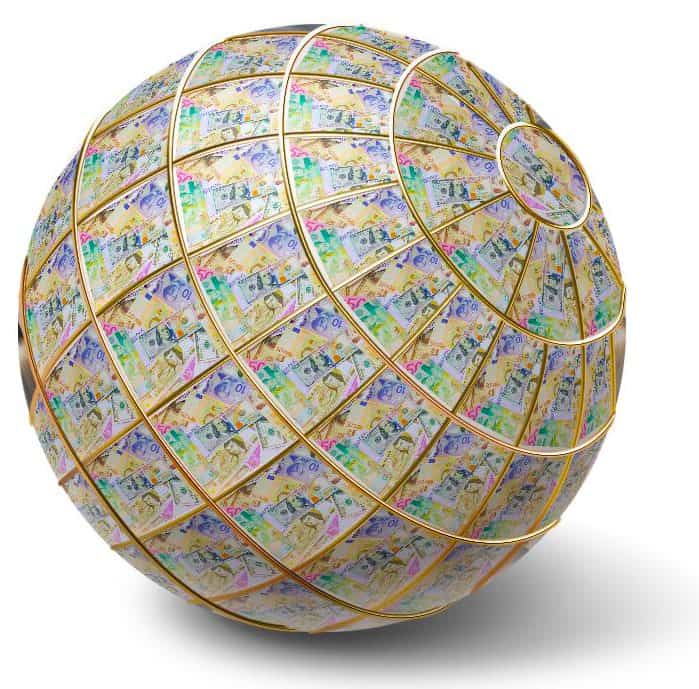 KPMG says that Fintech investment got off to a "quiet start" this year. The $3.2B was below Q1 of both 2016 and 2015. VC investment stood around $2.3 billion – a slight reduction – but a "solid result in comparison to previous quarters.
The US led the pack with $1.5 billion in total investment across 124 deals, including venture, private equity and M&A.
Europe registered $880 million for 89 deals. The "strongest quarter of European VC Fintech investment in recent memory." The UK was "steady" but Germany experienced a "surge".
Asia delivered just$492 million – a significant decline that is described as being due to the lack of mega-deals that have taken place in the recent past.  While China and India are the big players, other countries are picking up steam with Japan having three large early stage deals and Korea, Singapore and Australia each in the top ten as well.
The top 5 Global Deals during the first quarter were listed as follows:
SoFi – Series G – $435 million (USA)
DirectCash Payments – M&A – $310.7 million (Canada)
Paytm E-Commerce – Early Stage VC – $200 million (India)
iZettle – Series D – $175.2 million (Sweden)
UniRush – M&A – $147 million (USA)
Some other points of interest mentioned by KPMG include:
Partnership models are gaining traction. Corporates are warming up to working together instead of creating their own.
During Q1'17, SoFi acquired Zenbanx to provide more functions of a traditional bank, including customer deposits. SoFi raised over $450 million in order to fuel expansion into the Australia and Asia markets.
Median Angel/Seed round funding in Q1 came in at $1.4 million with a post money valuation of $6.9 million
During Q1'17, global tech giant Ant Financial (part of Alibaba) announced a $200 million investment in Kakao Pay to expand its reach and activities to Korea — although the deal will likely officially close in Q2'17.
Insurtech investment slowed to $243 million across 43 deals
Regtech is rising
Investment in Blockchain is down but interest is increasing.
KPMG forecasts that Fintech investment should increase in Q2 and for the rest of the year. They also believe that some larger Fintech players may acquire bank licenses so they can operate, well, more like a bank.

The KPMG Pulse of Fintech Report is embedded below.

[scribd id=346617537 key=key-0N99iLwIsjj2tursXKqa mode=scroll]

Sponsored