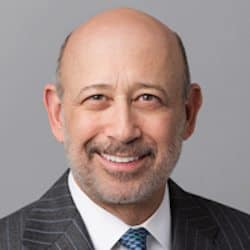 Meeting a prediction from this past June set by Goldman Sachs CEO Lloyd Blankfein, online lending platform Marcus topped $2 billion in loan originations. Additionally, Marcus reported online deposits of over $5 billion. Deposits and consumer lending have now been combined under a single brand, thus, in reality, creating a challenger bank for the future.
In a Q4 earnings report that was a mixed bag, Marcus operations was a positive note.
Overall, Goldman Sachs (NYSE:GS) reported net revenues of $32.07 billion and net earnings of $4.29 billion for the year ended December 31, 2017.
Diluted earnings per common share were $9.01 compared with $16.29 for the year ended December 31, 2016. Goldman reported a Q4 loss of $5.51 per share. The results were impacted by a tax related expense of $4.4 billion. Without this expense, Goldman said earnings per share would have been $5.68.
Goldman's push into consumer online lending has been watched closely by other market participants. Unlike most established online lenders, including marketplace lending platforms, Marcus benefits from consumer deposits that provide a very low  cost of capital. While Goldman's online lending operations are small relative to traditional lending, it is well positioned for significant growth.
Goldman has cautiously embraced Fintech innovation. Expectations are for Goldman to launch a cryptocurrency trading desk in 2018. But during the conference call, Goldman said the emerging cryptocurrency space, and Blockchain in particular, are of great interest to the industry and to their company.
The conference call added some color to the topic of Bitcoin trading. Goldman Sachs stated;
"We all know some exchanges have introduced contracts. On the back of this our clients have asked us to provide clearing."
So will there be trading in crypto? Goldman said there are a huge number of topics to address. Custody is one.
"It is really too early to say how that will evolve for the industry and for ourselves."