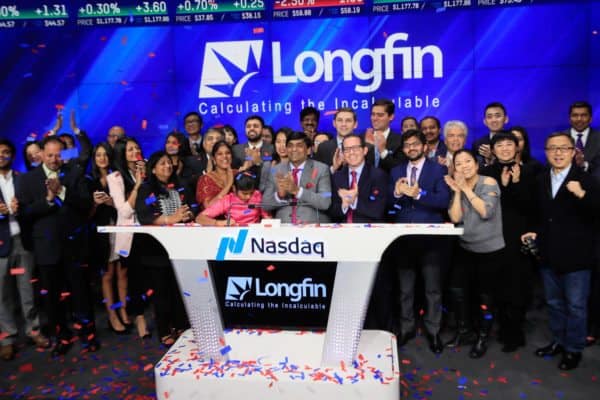 Longfin Corp. has announced its intent to "voluntarily" delist from the NASDAQ. The move comes as an ongoing enforcement action by the Securities and Exchange Commission saw allegations of illegal distributions and sales of restricted shares.
Longfin raised capital using the Reg A+ crowdfunding exemption in 2017. Soon after the offering, Longfin shares listed on NASDAQ trading under the symbol "LFIN." Soon after the listing, Longfin announced the acquisition of a blockchain based firm "Ziddu," a company that ostensibly would provide micro-finance lending backed by an initial coin offering.  The announcement caused the share price of Longfin to rise dramatically while simultaneously catching the attention of the SEC. Last December, Venkata Meenavalli, CEO of LFIN, visited the studios of CNBC where he struggled to explain the trading activity in his company.
The SEC first revealed a freeze of more than $27 million in trading proceeds from allegedly illegal distributions and sales of shares of Longfin involving the company, its CEO, and three other affiliated individuals in April.  A federal judge unsealed the SEC's complaint while shares in Longfin were halted.
Longfin has made multiple announcements in the following weeks including a notice of its intent to cooperate with the SEC.
Earlier this week, the SEC announced an extension of the asset freeze until the conclusion of the case that alleges illicit activity by Longfin, its CEO, Venkata Meenavalli, and three affiliated individuals, Andy Altahawi, Dorababu Penumarthi, and Suresh Tammineedi.
Longfin stated yesterday that the Company believes that it is preferable for the Class A Common Stock to trade on the Over The Counter market as soon as possible as opposed to proceeding with an extended review process with the Nasdaq Stock Market.
Longfin intends to file a Form 25 with the SEC on May 14, 2018, with the delisting becoming effective 10 days after the filing. The company anticipates that the last day of trading on NASDAQ of its Class A Common Stock will be on May 14, 2018.
The Company believes that its Class A Common Stock will be eligible for quotation on the OTC Market following its delisting from the Nasdaq Stock Market.
The SEC has asked that anyone with information about potential securities law violations involving Longfin to contact them by emailing [email protected].