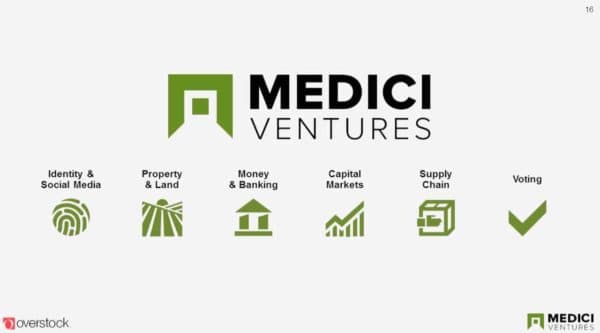 Overstock (NASDAQ: OSTK) reported Q3 earnings today after the market closed. While the company is best known for its e-commerce expertise, most of the earnings call was about crypto, blockchain, and the future according to Patrick Byrne.
As for Overstock,  top-line revenue came in at $440.6 million vs. $424 million – a 4% increase. The net lost jumped, as was expected, due to the significant increase in expense as the company sought to boost its search relevance and regain marketing traction. The net loss came in at $47.9 million vs. $0.8 million year prior.
But the real interest in Overstock is due to its burgeoning portfolio of blockchain focused companies. In fact, Overstock management is seeking a buyer for the retail side as it focuses its energy 100% on distributed ledger technology.
Byrne, one of the most prominent blockchain visionaries in the world, explained several important items in his dear shareholder letter.
Byrne said they have put over $175 million of investor capital into Medici Ventures, their blockchain accelerator, and the growing host of affiliated companies. This includes a significant investment in tZero, the security token issuance and trading platform:
"… we believe [tZero] is leading the pack globally in possibly the most lucrative of all blockchain applications (i.e., security tokens). I think the public may not understand our master plan in Medici, how the pieces all fit together, as well as how blockchain firms in this network are making similarly dramatic progress in their respective fields."
Revealed in the prior earnings call, the partnership with GSR Capital, a Hong Kong-based firm, and the investment in tZero security tokens is "proving to be a great help in the development of business in Asia."
During the call, Byrne noted that once the initial coin offering (ICO) market cooled in the US, most of the offerings migrated to Asia. But even in this region, there is growing recognition that issuing securities on blockchain really makes a lot of sense. Byrne says tZero is perfectly positioned to be leading the world when it comes to blockchain based security offerings. He also expects his company to push into other investment sectors including debt, real, estate and other tokenizable asset classes. Byrne acknowledges they are not the only game in town but believes they are "so far ahead" of everyone else on a global basis.
Democratize Capital • Eliminate Middlemen • Re-Humanize Commerce
Medici Ventures has morphed into a subsidiary with multiple business lines – all based on blockchain:
Identity & Social Media
Property & Land
Money & Banking
Capital Markets
Supply Chain
Voting
Byrne is exceptionally passionate about his blockchain vision. Asked about monetizing Medici Land Governance and he says its just going to happen as there is so much value there – minus any details.
Some interesting statements of note:
tZero will not start issuing security tokens until mid-2019. This seems to be a revision from the Q2 call when the company indicated it expected to start onboarding issuers in Q4
Onboarding of token issuers and supporting other token standards will begin in Q1 2019
They are in discussions with two global crypto exchanges about partnering
The goal is global via international expansion and partnerships
tZero wants to be a quality over quantity operation for the issuance of STOs
They have spoken to many industries about tokenization such as pharma and film
The SEC investigation is ongoing.
The call was classic Byrne who is a true entrepreneur; dedicated to disruption, change, and innovation.

Sponsored Links by DQ Promote