Crowdfunding : Le complément du Business Angel ?
November 19, 2013 @ 9:00 am

-

12:00 pm

EST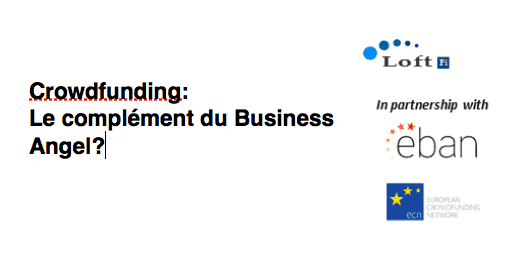 La Finance Participative ("Crowdfunding") propose actuellement un nouveau modèle d'investissement au grand public et aux investisseurs professionnels. Ce nouveau type d'investissement apporte-t-il une opportunité réelle d'investissement pour les Business Angels ? Quelles sont les synergies avec le crowdfunding pour développer la valorisation des investissements ?
4 Témoignages d'experts pour mieux comprendre le crowdfunding & identifier les opportunités
Une séance de Networking
Cette séance d'information s'adresse tout particulièrement aux Business Angels qui souhaitent comprendre l'impact du "Crowdfunding" sur leur pratique d'investissement.
Le séminaire aura lieu au Palace Intercontinental où des boissons vous seront servies. L'accueil vous permettra d'échanger avec les intervenants et participants.
L'accueil aura lieu à partir de 8h45.
La conférence-débat aura lieu de 9h15 à 11h00 ; et puis une séance de Networking aura lieu de 11h00 à 12h00.
Benoit Bazzocchi, SmartAngels  : "La place du Business Angel dans le Crowdfunding"
SmartAngels is a Crowdfunding platforms that is dedicated to Start-up and Growth company investing. The company offers services to investors and companies for relationship & investment management. SmartAngels is a trademark of Y Capital. www.smartangels.fr
Audra Shallal, Boss Consulting
Audra maintains two streams of specialization: Entrepreneurship-Business Planning and Luxury Goods. She has over ten years of experience in strategic management, business development, business and marketing plans, and product development in a wide range of industry sectors. She consults for international organizations such as OECD, UNEP and UNESCO, gives conferences and teaches undergraduate, graduate, and doctoral courses on Entrepreneurship & Business Plan Development, Entrepreneurial Leadership, Entrepreneurial Finance and Strategic Creativity to the Grandes Ecoles such as ENPC, ENSCP, ParisTech.
Benjamin Wattinne, Gust Europe  : "Les Réseaux de Business Angels et le Crowdfunding"
Gust provides the global platform for the sourcing and management of early-stage investments. Gust enables skilled entrepreneurs to collaborate with the smartest investors by virtually supporting all aspects of the investment relationship, from initial pitch to successful exit. Gust is endorsed by the world's leading business angel and venture capital associations, and powers over 750 investment organizations in 65 countries. www.gust.com
Lionel Slusny, Loft Solutions : "L'apport du Crowdfunding dans la valorisation des start-ups"
Loft Solutions is a specialized consultancy that provides solutions for the innovative financial services. Finance 2.0 is a concept that has been promoted by Loft since its creation in 2010. It now serves clients in more than 10 different countries and is especially known for crowdfunding development. www.loftfi.com
Partners
European Business Angel Network (EBAN)
EBAN is a non-profit association representing the interests of business angels, business angels networks (BANs) and federation of networks, seed funds and other entities involved in bridging the equity gap in Europe.
EBAN was established with the collaboration of the European Commission in 1999 by a group of pioneer BANs in Europe and EURADA (European Association of Development Agencies). www.eban.org
European Crowdfunding Network (ECN)
European Crowdfunding Network promotes crowdfunding as a viable offering of job creation, social innovation and boost to entrepreneurship to the European public, policy makers and stakeholders. www.europecrowdfunding.org