Introducing The Orchard Deals Platform: A Suite of Technology Solutions for Loan Originators & Institutional Investors – Webinar
September 27, 2017 @ 11:00 am

-

12:00 pm

EDT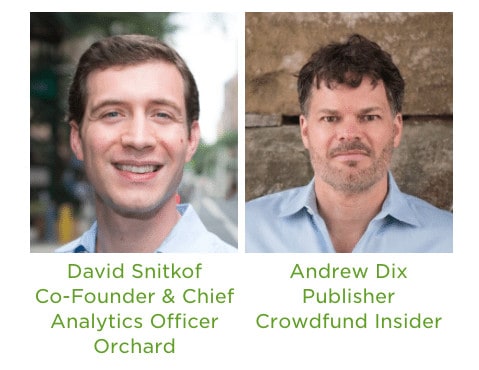 This forum brought to you by LendIt and Crowdfund Insider will feature David Snitkof, Co-Founder & Chief Analytics Officer at Orchard, giving a demo of their new platform and answering questions from Andrew Dix of Crowfund Insider.
Deals is operated by Orchard Platform Markets, LLC, a wholly-owned subsidiary, SEC-registered broker-dealer, and member of FINRA and SIPC. With Deals, qualified investors gain access to a broad range of new investment opportunities, including pools of seasoned loans, forward flow agreements, and credit facilities — along with all underlying deal data and an enterprise suite of credit analytics solutions to evaluate each prospective transaction.
Originators with pools of loans to sell can list deals and seamlessly share data within this global network, while working with investors who express interest in a deal to conduct due diligence and analysis, and finalize the transaction's structure and terms.
Features include:
Deals – Global network where pre-qualified loan originators and investors can browse a broad listing of investment opportunities
Capital Management – Allocation optimization, facility monitoring, and automated borrowing-base reporting offerings to help originators better monitor utilization across multiple capital sources
News & Insights – industry news, economic data, and Orchard research to keep originators and investors up-to-date on the latest industry trends
Advanced Analytics – benchmark origination and performance data against an aggregated and anonymized peer group
High-Quality Data Services – integrations originators improve the quality of their data, and streamline the process for client reporting