Kingonomics
August 22, 2013

-

August 23, 2013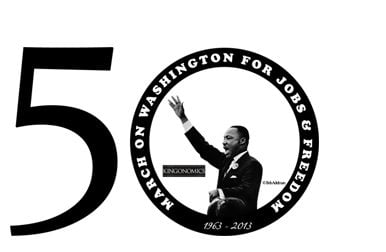 NEHEMIAH INVESTMENTS, REBIRTH FINANCIAL, CERTUS BANK & GOOGLE
PRESENT
KINGONOMICS
INNOVATION, ENTREPRENEURSHIP, INVESTMENT & CROWDFUNDING CONFERENCE
WALTER E. WASHINGTON CONVENTION CENTER
THURSDAY, AUGUST 22- FRIDAY, AUGUST 23, 2013
What To Expect @ Kingonomics @ 50th Anniversary of The March on Washington for Jobs and Freedom.
Kingonomics @ 50th is a two-day powerful, authentic, interactive and enthusiastic gathering of existing and aspiring innovators, entrepreneurs, businesses and investors, inspired by the economic philosophies of Dr. Martin Luther King, Jr. and the entrepreneurial and collaborative enthusiasm of Dr. Rodney Sampson. This is the "Kingonomics Rights Movement!" The two days will include The Emancipation of Capital Gala Reception, Seven Interactive Bootcamps, Shark Tank Casting Call & Crowdfunding Forum. Kingonomics will also be streamed live-via-Internet for entrepreneurs and investors around the world to tune into to this historic event.
On Friday, August 23rd, 2013, over 100 experts in business and investment and thousands of entrepreneurs from across the United States and around the world will converge live-in-person and online to learn, engage, connect and collaborate. Even more than a cutting-edge event, Kingonomics is an experience that leaves you enlightened, exposed, enabled and ready to embrace the entrepreneurial life to which you've been entrusted and the definitive purpose to which you've been called. Expect an intense, immersive learning and interactive experience, where timely knowledge capital will come from thought leaders who grace our platform, or the person sitting in the seat right next to you. Make it to Kingonomics.
The Kingonomics Curriculum is divided into four tracks: Start.Up (for entrepreneurs and business owners) | Invest.Up (for investors) | Sprout.Up (for youth and young adults) and Expose.Up (Crowdfunding).Within the tracks, Kingonomics offers a total  seven bootcamps to choose from.