World Funding Summit – Los Angeles
November 17, 2017

-

November 18, 2017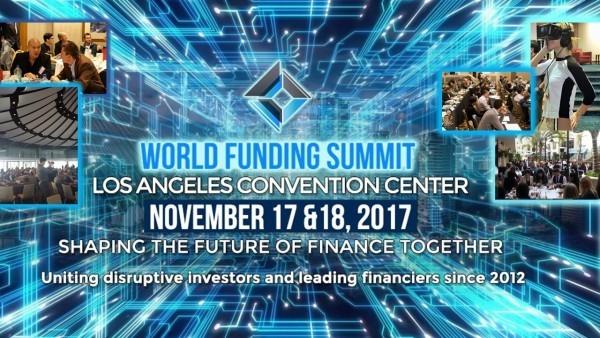 The Future is Now
The World Funding Summit is expanding this year to a two-day program, it's an annual gathering which UNITES disruptive investors & leading financiers who share our mission & celebrate #impact and #inclusivity.
OUR ULTIMATE GOAL: TO ELIMINATE INEQUALITY IN ACCESS TO CAPITAL
Meet some of the most forward-looking financiers & influential investors of our time including Mark Suster (Upfront Ventures, $2B) and many others.
TOPICS: This year's expanded event is reflective of the rapidly changing nature of the #funding world so be ready to learn about #ICO, #cryptocurrencies, & #blockchain.
We are featuring highly interactive "fat-free" panels, "TED" style talks by #investors and #workshops where you will learn "HOW TO…":stage an ICO, go public/ #RegA+, raise capital online/#crowdfunding, invest online/#Crowdinvesting, attract a #VC, become a VC (!), get a #foreign investor/#EB5, etc.
IMPACT: Our Capital Expo, themed "The Future is Now," is set to feature teams from around the world, female founders& local champions with impactful businesses. Many thanks to our incredible partners for their support & encouragement! Spread the word & stay tuned for more updates! #Fintech #future #WFSLA
Scheduled speakers
include TOP financiers and some of the MOST influential investors of our time PLUS capital raising champions:
Mark Suster, Venture Capitalist, Managing Partner at Upfront Ventures
Nisa Amoils, Venture Capitalist at Scout Ventures & Angel Investor
Kirsten Green, Venture Capitalist, Founder & Managing Director at Forerunner Ventures
Arthur Lipper, World renowned financier, author, FinTech inventor, and philanthropist
Rupert Scofield, President, and CEO of FINCA International
Vivian Shimoyama, Regional Director, SoCal, Goldman Sachs 10,000 Small Businesses Program
Alan Yong, Co-Founder of DNotes, a Bitcoin alternative digital currency
Andrew Kyzyk, Vice President & Head of Advisor Relations at OTC Markets Group
Irena Chaushevska – Director of "NASA Space Apps Challenge" in Silicon Valley/Europe
Michael Hughes – Senior [email protected] Equity Crowdfunding Indiegogo
Alexander Kokhanovskyy – CEO & Founder DreamTeam.GG
Volodymyr Panchenko – CEO & Founder DMarket.io
Robert Lewis – Founder & President at Black Cooperative Investment Fund (BCIF)
Paul Scanlan – Angel Investor, Equity Crowdfunding Pioneer Cofounder @Legion M
Manie Eagar, Chairman at Blockchain Association of Canada (BAC)
Jonatan H. Bergquist – Co-founder of Crowdstart Capital
Erin Shipley – Venture Capitalist, Co-Founder & Managing Partner @ The Helm
Eric Gravengaard – CEO at Athena Bitcoin, Inc
Valentin Preobrazhenskiy, Founder & CEO of LAToken
Eric Bunting, Early-stage investor, Founder & Managing Partner at Overbrook Capital
Mona DeFrawi, Founder of InsideVenture (acquired by SecondMarket)&RADIVATE MEDIA, Inc.
Josh Maher, Angel Investor & Author of "Startup Wealth"
Kevin Lamb, Entrepreneur and Film Financier, CEO at Advanced Tissue
Jor Law, Co-founder at Homeier Law PC & VerifyInvestor.com
Richard Kivel, VC & Private Investor, Managing Director of GrayBella Capital, MIT
Kim Kaselionis, Managing Partner at Breakaway Funding LLC
Michael G. Homeier, EB-5 & equity crowdfunding attorney, Founder at Homeier & Law, P.C.
Barry E James, Co-founder & CEO of TheCrowdfundingCenter.com and CrowdDataCenter.com
Rick Smith, Venture Capitalist, Co-founder and Managing Director at CrossCut
Jouko Ahvenainen, Founder @Grow VC Group, a global fintech holding company
David Koepsell, PhD, CEO & Founder of Encrypgen: blockchain genomics via the Gene-Chain
Greg Bohlenm, VC, Managing General Partner at Union Grove Venture Partners
Xiaocheh Zhang, President at FinTech4Good
Ekaterina Dorozhkina, Entrepreneur & Financier, Raised $5M via ICO
Celu Ramasamy, Bitcoin Investor, Cryptocurrencies evangelist, Partner at Focus Investments
Laurent Ruben, Founder & General Manager at French Accelerator
Delilah Panio – Founder and CEO @Fortuna
Edward "Coach" Weinhaus – Chairman of The Co.in Group & [email protected]
Andrew Hinkes – Partner, Berger Singerman LLP
Kim Folsom – Co-Founder and CEO of Founders First Capital Partners, LLC
Smita G. Bagla – Managing Partner at Amritt, Inc.
 The Master of Ceremonies will be Sandro Monetti, a CNN and BBC contributor and television host.