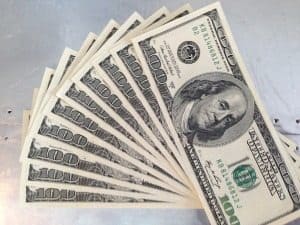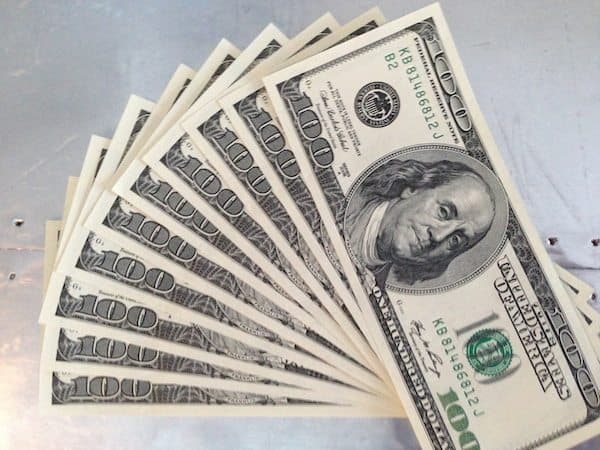 Investment crowdfunding platforms are complex operations. As soon as you start moving other people's money around,  not only do your customers want to know things are secure, but you are scrutinized by a panoply of state and federal agencies determined to assure things go well.
Recent events in the crowdfunding space put multiple platforms in flux as a well-known escrow provider bailed on the service late last year.  Most banks have not been lining up to compete and offer a new service either. As we all know the banking industry is one to change slowly – cowed by onerous and costly regulations. Well now there is an innovative, yet well- established financial firm, that sees opportunity in this industry void – and believe it or not – it is owned by a bank.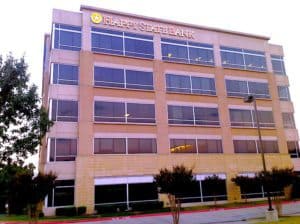 GoldStar Trust, owned by Happy State Bank that has over $2.6 billion in assets, has launched CrowdPay, an escrow, payments and self-directed IRA solution for crowdfunding portals . Happy State Bank has been doing business in Texas since 1908 and is a 4 star rated financial firm. The new CrowdPay application is specifically designed for crowdfunding platforms raising capital under rule 506(b) and 506(c) plus any intrastate exempt platforms that are in need of an escrow and payment service.  Once final rules on Title III and Title IV are in place – CrowdPay is ready to assist with these exemptions as well.

CrowdPay provides the knowledge and horsepower necessary to securely collect funds, open escrows and process payments for investment crowdfunding offerings. While back office operations are not on the top of the list for consumers interested in investing online –  it is imperative to provide a rock solid and secure environment so it remains a seamless and trusted process.  CrowdPay is an API driven application that is intended to integrate with any platform.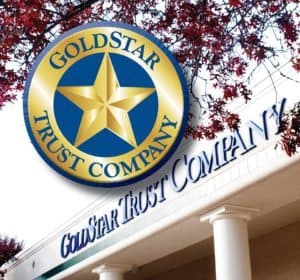 CrowdPay brings several interesting synergies to the table. As a bank, trust company and self-directed IRA custodian in one, Goldstar has the credibility earned from over 20 years of experience, over 37,000 IRA accounts and almost $2 billion in assets under management. Goldstar can assist with capitalization tables, tax reporting, custody and more. It really depends on the needs of the platform. Automating services for crowdfunding is the perfect evolution for a service that can boast years of success.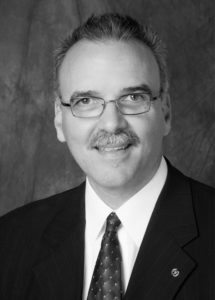 GoldStar Trust Company President, John Johnson explained;
"The banking industry has a well-earned reputation for hesitancy towards change.  Management at Goldstar views the changing environment of finance as an opportunity not a concern. With more services moving online and capital shifting to more efficient digital operations, Goldstar wanted to be part of this change and not to observe from afar.  Crowdfunding and Goldstar is a natural fit. We already have the in-house knowledge and years of dependable service – something many new crowdfunding portals dearly need."
CrowdPay is not an outsourced application but benefits from a solid in-house development team that is ready to address any feature requests or concerns directly.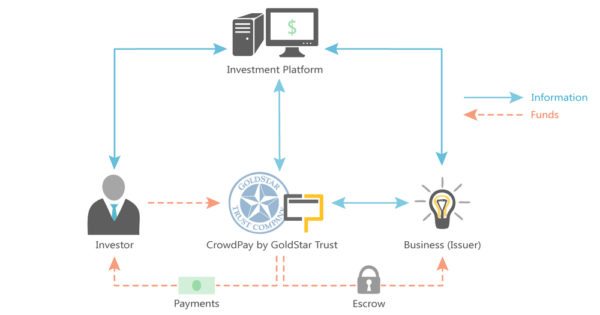 How it works:
Once an offering goes live, CrowdPay creates a sub- account for each Investor in an offering. Funding is via ACH, wire or IRA rollover/transfer. Funds are then moved to the escrow account for the specified project. If the offering meets escrow, funds are released to the Issuer's business account. If the issue fails to meet escrow, funds are returned to the Investors' CrowdPay accounts to either be withdrawn (ACH'd to their checking account) or better yet, reinvested in a different  offering. CrowdPay wants to make it easy for an investor to reinvest.
Interest, dividend, royalty payments, etc. paid by Issuers, are automatically sent to each Investor's CrowdPay account and/or IRA. The funding portal has direct access to all necessary account information.
The new world of crowdfunding and alternative finance has created growing demand for unique services. CrowdPay is taking a legacy of heritage, trust and efficacy and powering the future of digital capital formation.
---
GoldStar Trust President John Johnson may be reached via email at [email protected]
---