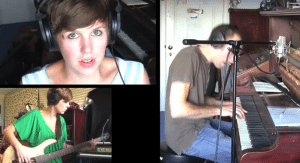 Jack Conte is nothing if not inventive when it comes to creating  music.
One half of the YouTube sensation Pomplamoose, Conte's ability to play nearly any instrument imaginable while creating amazingly entertaining "videosongs" with his fellow band member Nataly Dawn has resulted in the duo garnering a huge following since they first started posting work on YouTube in 2008.
But Conte's inventiveness doesn't stop with the music.  As he continued to create music videos and with the release of a new album just around the corner, the musician didn't see a great way to monetize his work.
So what'd he do?