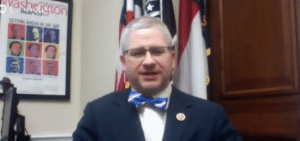 Congressman Patrick McHenry (R-NC), viewed as one of the leading legislative voices advocating the benefits of crowdfunding, was interviewed last week as part of the Crowdfund Global Expo held in San Diego January 30-31, 2014.  DJ Paul, Crowdfund Intermediary Regulatory Advocates (CFIRA) Chair and Andrea Downs, CEO of Coastal Shows the event organizer, jointly discussed issues surrounding crowdfunding.
Congressman McHenry stated that four things need to be improved (paraphrased) for Title III crowdfunding.
Portal Liability for Issuer Conduct
Curation or right of refusal
More scalable regulations regarding cost
Liability on Investor cap

DJ Paul poses the question should we get them out now or fix them first?  McHenry states we should fix them now.  "Get them as right as we can make it".
See entire video below:
_______________________________________