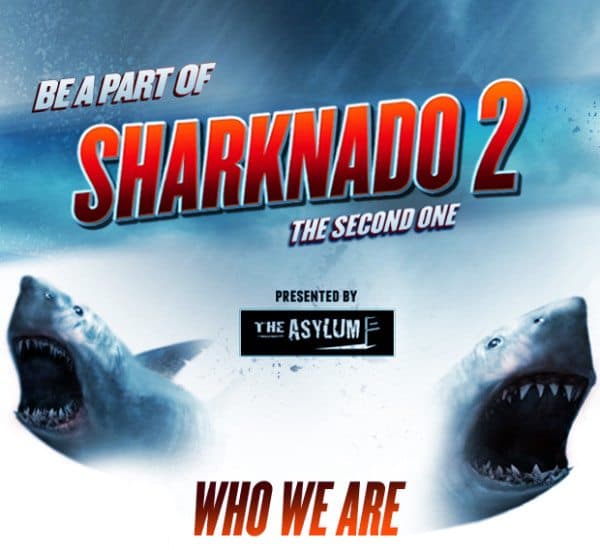 Sharknado is a made for TV movie that took the film world by "storm" airing on SyFy in July of 2013.  The sheer audacious nature of the plot of this now classic B horror film quickly became social fodder and iconic camp. Any producer that can create and finance a film about tornados that picks up man eating sharks and drops them into a flooded Los Angeles has a special genius.  Add chainsaws to that visual equation and you have gory perfection.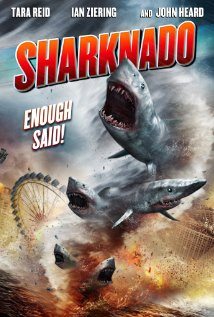 Sharknado opened with only 1.37 million viewers but as the twitterati caught hold of the sharks, SyFy soon discovered they had stumbled upon a hit.  The film has been repeatedly viewed and is now one of their most watched original SyFy films – ever.
While Los Angeles truly earned the privilege of having sharks rain down from water-spouts, New York is the next location to be showered by the monsters.  Sharknado 2 is scheduled to premier this coming July with original stars Tara Reid and Ian Zeiring reprising their roles.  As part of the promotional campaign the organizers have launched an Indiegogo crowdfunding campaign to ostensibly raise $50,000 to produce a special scene for the film.  And yes – the producers guarantee there will be chainsaws involved.  If you are so motivated, and want your own page on IMDB, for just $25,000 you can get an Associate Producer credit on the film – something your grandchildren will certainly cherish.

If you decide to contribute to this work of art – you will not only receive a "warm glow in your heart" but there are multiple reward levels with some pretty cool perks.
$45 – you get a shark named after you
$50 – you will get a copy of the screenplay plus all the other previous perks (named shark included)
$120 – your scream will be used in the film.  Not kidding at all.
$5000 – you get a walk up role in the film. Don't know if you will be near Tara Reid.
$10,000 – the whole shebang plus you get to party with the crew at the premier.
$25,000 – you are one with the Sharknado
Check out the rewards for yourself.  Crowdfunding is scheduled to end on May 30, 2014. Go #Sharknado2.

________________________

Have a crowdfunding offering you'd like to share? Submit an offering for consideration using our Submit a Tip form and we may share it on our site!

Sponsored Links by DQ Promote