Clarion Events and gambling industry crowdfunding platform GamCrowd have signed a cooperation agreement. Under the agreement GamCrowd has become a supporting partner for Clarion's Start-Up LaunchPad and Start-Up Village at EiG and ICE Totally Gaming. GamCrowd will also use these Clarion events to host the major physical meetings of GamCrowd's crowd of start-ups and investors. GamCrowd's assessors will work with LaunchPad finalists on their pitches to prepare them for the "Dragons Den" style competition and Clarion will help promote and support the finalists. It is expected that many of the finalists will be cleared as "GamCrowd Fit" and go on to raise funds on the crowdfunding platform.
EiG is the Centre for Excellence in iGaming worldwide and the show, which is making Berlin its new home in 2014 will see a larger audience from the vibrant start-up scene coming from across the world and Berlin, Europe's Silicon Valley. 
Chris North CEO of GamCrowd is delighted with the new partnership;
"To be working with the industry's leading event organisers is great news for GamCrowd's start-ups. The additional exposure and the opportunity to promote their ideas face to face with investors will help them get the funding and support they need."
Silvia Peneva, Clarion's Programme Manager also believes the new partnership will be beneficial to the established and start-up players in the industry;
"Our focus groups are telling us that the industry wants to see more innovation and differentiated, unique content at our events and we have taken note. We firmly believe that the partnership with GamCrowd will further that aim and advance our Start-Up LaunchPad and Start-Up Village at EiG 2014 by adding value to all start-ups participating and also integrate these event features with a Gambling focused online platform."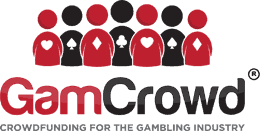 Investing in start-ups and early stage businesses involves risks, including illiquidity, lack of dividends, loss of your investment and dilution and it should be done only as part of a diversified portfolio. GamCrowd is targeted exclusively at investors who are sufficiently sophisticated to understand these risks and make their own investment decisions. You will only be able to invest with GamCrowd once you are registered as sufficiently aware of the risks involved.