On Thursday (September 25th), Reed MIDEM announced co-founder and chief development officer of Indiegogo, Danae Ringelmann, is set to be the keynote speaker at the annual music industry tradeshow, Midem 2015. According to Billboard, during the Midem Talks conference sessions, Ringelmann will discuss how crowdfunding offers a viable source of funding for innovative technologies and new ideas within the creative industries, specifically music.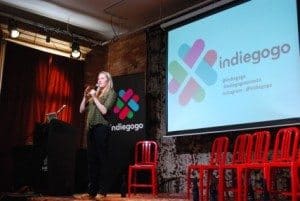 Ringelamnn shared in a statement, "Since 2008, Indiegogo has empowered thousands of artists and musicians to amplify their audiences and raise more money for their projects than they could ever do on their own or elsewhere. Indiegogo's open and global platform is now an engine that powerfully connects visionary creatives, technology pioneers and innovative philanthropies to the people who are most passionate about bringing their ideas to life."
Midem director, Bruno Crolot also noted, "As a powerful tool to unlock innovation, crowdfunding platforms like Indiegogo are offering new possibilities for artists and music industry creatives alike. We are delighted to announce Danae Ringelmann as the first keynote in what promises to be another rich line-up of Midem Talks speakers."
Reed MIDEM describes Midem as the "world's music market" The event was launched in 1967 and it is the yearly international B-to-B event dedicated to the new music ecosystem, with a tradeshow, conferences, competitions, networking events and live performances. Midem is considered the place where music makers, cutting-edge technologies, brands and talent come together to enrich the passionate relationship between people and music, transform audience engagement and form new business connections.
The Midem Talk sessions are designed to cover key subjects facing the music business and are dedicated to featured industry leaders. The event is set to be held June 5th-8th, 2015 in Cannes, France.