CommonBond, a marketplace lending platform that lowers the cost of student loans for borrowers and provides financial returns to investors, today announced founder and CEO of Sanlaap North America, Sindhura Sarikonda, as the winner of the 2015 CommonBond Social Impact Award, which honors the nation's top MBA social entrepreneur.anlaa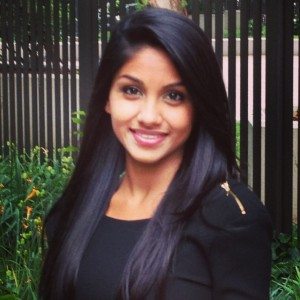 Sarikonda, a Class of 2016 MBA candidate at the Wharton School and Founder/CEO of Sanlaap North America, received $10,000to put toward her organization, which rescues, shelters, and empowers human trafficking victims. In addition to the $10,000 award, Sarikonda will also receive mentorship from CommonBond CEO and Co-Founder David Klein and the rest of CommonBond's executive team.
Sarikonda stated:
"This is one of the most meaningful awards I've ever gotten. We'll be using the funding that we get from CommonBond to fund 120 scholarships for our girls so that we can stay true to CommonBond's social mission, as well as our own mission."
Sarikonda received the award at "Spark Tank," a CommonBond-hosted event on August 5th, at Projective Space on the Lower East Side in New York City. The three MBA social entrepreneur finalists pitched their ventures before a panel of judges.
The finalists were selected from more than 600 nominations nationwide. In addition to Ms. Sarikonda, the other two finalists included:
Jonathan Sockol, a Class of 2016 MBA candidate at Wharton and founder and CEO of DocPronto, which is building a mobile application that significantly improves emergency response times by sending medical professionals alerts regarding life-threatening emergencies – such as cardiac arrests, choking or strokes – in their immediate vicinity.
Angie Hayden

 and 

Margaret Threadgill

, a Class of 2016 MD and MBA candidate at UCLA Anderson and co-founder of Project Pregnancy, a free mobile app designed to improve health literacy and maternal and child health outcomes in underserved communities by providing easy-to-understand pregnancy health information approved by the American Academy of Pediatrics.
The finalists all presented their ideas and business models, the potential for long-term impact, the traction they have achieved to date, and what the future looks like for their ventures. They also answered questions from the audience and our four judges, who included:
David Klein

, CEO and Co-Founder of CommonBond;

Adam Braun

, Founder of Pencils of Promise;

Rachel Wald

, Social Impact Manager at Gerson Lehrman Group; and

Evan Walden

, CEO and Co-Founder of ReWork
Klein shared:
"Since Day 1, CommonBond has had a strong social mission. The CommonBond Social Impact Award is our way of encouraging and enabling others to build companies with social impact as well.While we were absolutely blown away by all of the finalists, we were very impressed with what Sindhura has accomplished and how dedicated she is to her organization. We have high hopes for Sindhura and her team at Sanlaap North America."
In addition to the $10,000 award, Sarikonda said she looks forward to the guidance from Klein and CommonBond's executive team:
"My organization is at an inflection point now as a mid-sized organization on the verge of being much larger, so we will benefit immensely from the expertise and mentorship on scaling responsibly from David and the rest of CommonBond's executive team."
The two runners-up, DocPronto and Project Pregnancy, were also awarded five complimentary branding sessions from interactive agency Dom & Tom to help them take their ventures to the next level.