"…crowdfunding is an incredible resource for independent artists and is a powerful way to maintain creative control of our work."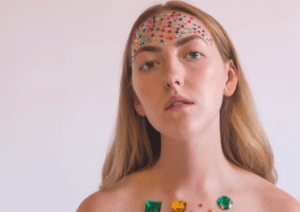 This time of year is filled with graduations and future plans for promising students, artists and songwriters.  Kickstarter covers an interesting earful of projects from songwriter students who have graduated within the last few years or even decades ago (!), moving to record studio albums, returning to homelands, making a difference or stand politically or just improving overall ambiance with good tunes.
Often these campaigns are on a much smaller scale, but backers still rally in support. I recently reached out to LA-based Canadian singer-songwriter and Berklee grad Lindsay Kupser who was a fellow artist-in- residence at Barcelona's JIWAR Foundation. She opted for Kickstarter as a way to fund her debut album, a body of work poignantly created with other women after years of navigating the gender imbalance of power within the music industry and studio environments.
For many, there is a sense of risk when initiating campaign while also daydreaming of discovery and extraordinary crowd support; anything could happen, really, which is why insider info about the Kickstarter process can prove and become very helpful. Kupser and I had discussed crowdfunding in the past as a possible solution for artists and songwriters to fund important projects; when she decided to opt to crowdfund this spring for her debut album whose songs are a meditation on femininity, she shared some details about her choice via email: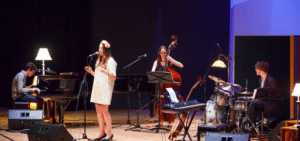 "The choice to go the crowdfunding route was a difficult one for me. I think because I am so introverted, crowdfunding has always felt a little daunting to me. Specifically the element of having to reach out to everyone you know individually and ask them for money… as an independent musician, I have become so used to doing almost everything on my own and making things happen for myself," explained Kupser. "Asking for help isn't something I do often or feel very comfortable with, but I have actually been very pleasantly surprised with the positive response I have received. At the end of the day, crowdfunding is an incredible resource for independent artists and is a powerful way to maintain creative control of our work. I'm still very unsure about record labels and whether or not they are the right choice for me and my music, so in the mean time, crowdfunding is a great tool and allows me to make my music with no strings attached."
Why Kickstarter?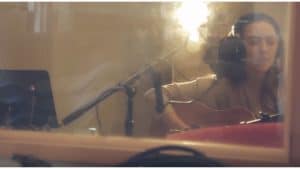 "I'm a very visual person, and marrying visuals with my music is something I am passionate about and is essential to this particular project I am funding. I looked through many past and present campaigns on several different crowdfunding websites, and Kickstarter always struck me as the platform with the most cohesive and beautiful visual capabilities," clarified Kupser. "It was clean and simple which I liked, but left lots of room for one's own interpretation and creativity while building the campaign."
Kupser's campaign goal is $12K, and she has just surpassed the $4,840 mark with the help of 20 backers. It's not always obvious how to reward backers, how to film or even how to describe a projects, but these decisions are what connects backers to the kickstarting individuals. I circled back with Kupser half way into her campaign to learn about her experience thus far: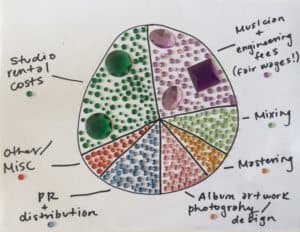 "I'm more or less right on track to hit my goal if things continue to grow at a consistent speed, and I am doing everything I can to get the word out. Before launching, I spoke with many friends and colleagues who shared with me their crowdfunding experiences, so I was definitely prepared for the amount of time and effort I would have to put into the campaign to get what I needed out of it," shared Kupser. "The individual outreach is certainly the most challenging and time consuming, but it has been really rewarding to connect with people and to be surprised and delighted by people's generosity. It is encouraging to me as well to see so many men supporting my female-made project. I've still got a long way to go, but I'm excited about this project and feel confident that others will be too!"
Kupser is offering digital downloads, CDs and vinyl versions of her album as well as original artwork by fellow JIWAR resident and emerging artist Samantha Wilson, a private concert and songwriting lessons.  For more detailed information on Kupser's campaign, click here.
Other singer-songwriters projects to watch on Kickstarter include Diana Gameros' A New Album Dedicated To My Homeland, about her return to Mexico; La Miss Negra's 2nd Album, Sarah Sample's sixth studio album Redwing, Elian Arian's soulful collection of songs of reflection, prayer, and joy (that has surpassed her goal with 9 days remaining) and yoga studio favorite Krishna Das New Music from the Heart Space, which has also crushed his campaign goal.
Have a crowdfunding offering you'd like to share? Submit an offering for consideration using our Submit a Tip form and we may share it on our site!