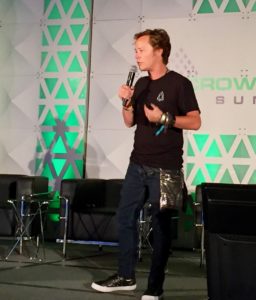 In a Dear John Oliver missive, EOS simultaneously challenged the famous comedian and his recent diatribe against ICOs, and cryptocurrency in general, while dismissing crypto-advocate Brock Pierce.
According to the post on Medium;
"Brock Pierce was an early advisor to Block.one for several months and made significant contributions to the awareness of the EOSIO project. His past experience working with projects such as Ethereum, Blockchain Capital, and as chairman of the Bitcoin Foundation have proved immensely valuable. As we mentioned last week, we recently came to a mutual agreement that Brock would end his role at Block.one as he transitions to independent community building and investment activities. We thank Brock for his contributions, support, and continued larger than life passion for the EOSIO project.
As a growing company building value through an open source community as opposed to traditional avenues of proprietary software ownership, we are conscious of the importance of robust corporate communications. We take professional standards seriously and are always focused on raising the bar as our company transitions from startup to aggressive growth. We value acknowledgment of room for continued improvement and remain confident in our mission to further the impact of Blockchain as a foundational technology."
In the Oliver video the comedian requested viewers to "Google Block Pierce Scandal" drawing attention to questions that have long been known within the cryptocurrency industry.
One commenter on Reddit exemplified other individuals surprise;
"Have to put my hand up and say I bought the EOS hype and had some in my holdings. I had zero idea who brock was – I don't follow that kinda of thing, perhaps I should research everyone involved in a currency. I recall seeing the video and thinking "that guy with the hat is a bit of a dick" – it was one of my earlier buys. Glad to be rid of it. It's now out my portfolio, at a slight loss, got into that other coin that starts with a V and has a chain in it instead."
Pierce has been a long time proponent and popular speaker at events focusing on Bitcoin and the emerging ICO industry. His enthusiasm and professional delivery made him a popular draw at conferences everywhere. While Pierce may have been pushed aside at EOS, it is unclear how it will impact his affiliation with other organizations. One prominent crypto startup is ICO platform Cointopia where Pierce is listed as an advisor.
Pierce first came to prominence as a child actor playing roles in films like the Mighty Ducks or Little Big League. He then became involved on the production side of the entertainment industry assisting with various shows such as Chad's World about gay teenagers, according to Wikipedia.
Controversy has always surrounded Pierce, but this has not stopped him from helping promote the crypto industry. Reportedly, Pierce has invested in many blockchain based companies and has helped crypto companies raise hundreds of millions of dollars.