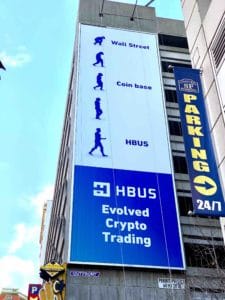 HBUS, the digital currency exchange that is a sister company to Huobi – one of the largest crypto exchanges in the world, has launched an interesting promotional campaign that strives to highlight the fast-evolving securities markets with a jab towards Coinbase. As part of the campaign, HBUS said it will eliminate all trading fees throughout the end of the year.
The outdoor advertising promotion unveiled a billboard campaign entitled "Evolved Crypto Trading" just blocks away from Coinbase HQ in San Francisco. The billboard is located on the San Francisco corridor of 3rd Street, between Mission Street and Market Street in downtown San Francisco.
Frank Fu, CEO of HBU, said that digital assets have taken a hit this year but they wanted to "give crypto traders a break when it comes to the high fees they regularly have to pay when trading on other exchanges."
"It's time American traders are given freedom and more options when it comes to what they want to buy when it comes to digital assets."
HBUS currently offers 12 digital currencies, including Bitcoin, Ethereum, and Litecoin, and 35 trading pairs. HBUS has plans to introduce two new token projects a week as it seeks to boost crypto interest in a challenging marketplace as the realities of regulation sink in.
Launched in July, HBUS has a motto of  "More digital asset options. More Rewards."
Kevin Leu, Head of Communication at HBUS, said the inspiration of the campaign came from Wall Street. In brief, traditional finance moves slowly with lots of barriers to entry:
"We wanted to show that there's a true digital asset revolution – and evolution – that gives people more options to access the ever-expanding ecosystem of digital currencies and the products and services that accept digital currencies."
Sponsored Links by DQ Promote