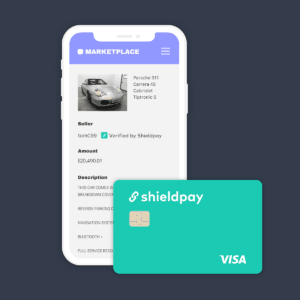 UK based Fintech Shieldpay has formed a partnership with Visa (NYSE: V) to provide card payments across peer to peer marketplaces and classified ad sites. Shieldpay said the partnership will open up the use of debit and credit cards to the £120 billion classified industry. Shieldpay reported that it will work with Visa's CyberSource platform to allow access to new verticals where secure peer to peer payments have been challenging due to intrinsic transactional risk.
Shieldpay provides an "instant digital escrow solution" that mitigates the risk of fraud by verifying the identity of all parties and only releasing funds when both parties are satisfied with the transaction. Shieldpay's partners will also be able to make use of the Visa Direct push payments service, enabling funds to be disbursed directly to a Visa card in real time in many European markets.
Peter Janes, CEO and Founder of Shieldpay, said the Visa and Shieldpay partnership is a game changer for the digital peer to peer marketplace and classified ad world.
"Fraud is a huge concern for users of these platforms, and the security Visa and Shieldpay can now offer will revolutionise the space. The team at Shieldpay continually strives to offer the most secure payment solutions to give consumers complete piece of mind when buying and selling online. Partnering with Visa will give us a strong platform for expansion and enhance our product offering by leveraging our combined assets. We are excited about the future and what we can build alongside Visa."
Mike Lemberger, SVP Product Solutions for Visa, described the partnership as a great opportunity to bring Visa's digital payments capabilities to all types of marketplaces.
Shieldpay's payments process is designed to protect both buyer and seller in any payment by verifying the identity both individuals. Earlier this year, Shieldpay reportedly powered the first fully digital real estate transaction to reduce the potential for fraud. Shieldpay is authorized as payments provider in 32 countries including the UK and US.