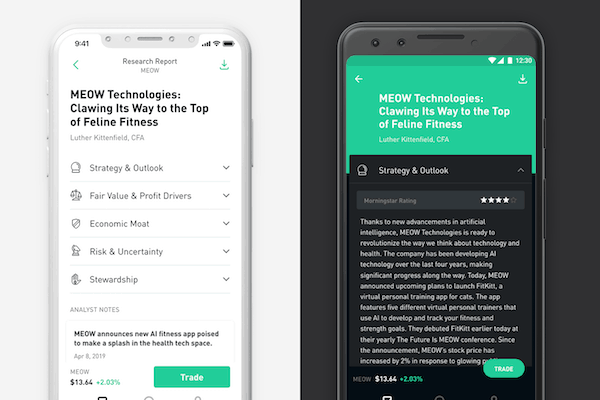 Following its acquisition of MarketSnacks to bring users financial news, Robinhood announced the improved version of Robinhood Gold Experience. According to Robinhood, Robinhood Gold is offered to every investor and includes margin investing and bigger instant deposits. It also offers new premium features such as in-depth research and data. Other premium features include:
Morningstar Research Reports: Provides in-depth research for over 1500 stocks so you can learn what analysts think about a company's outlook.
Nasdaq Level 2 Market Data: Shows real-time bids and asks for any stock so you can better determine the supply and demand for a stock at a certain price. This feature will be coming to Gold soon.
Robinhood noted that for only $5 a month, users will receive all new premium features and bigger instant deposits. If the user is eligible and choose to invest with margin, their first $1000 in margin is included, and they'll pay 5% yearly interest on any amounts they borrow above that. Robinhood went on to add:
"You can start your free trial of Gold at any time in your Robinhood account. If you already have Gold, look out for an email on how to upgrade to the new experience, or manage your Gold settings on Robinhood."