FrontFundr, a Canada-based online investing platform, announced on Wednesday it has appointed David R. Beatty C.M., O.B.E., F.ICD, CFA the Chairman of the Board of Directors. According to the funding portal, Beatty was on the board of the Bank of Montreal (BMO Financial Group) for more than 20 years, including seven terms as Chairman of the Risk Review committee. Last year, he was awarded the International Corporate Governance Network (ICGN) Lifetime Achievement award.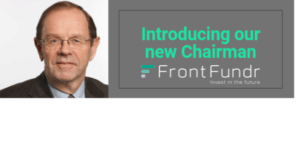 Speaking about the appointment, Peter-Paul Van Hoeken, FrontFundr's Founder and CEO said of the appointment:
"As Canada's largest investment crowdfunding platform, we have democratized investing in private companies. The appointment of such an experienced business leader as David, reflects our transition into the next phase of mainstream financial services. I look forward to working with him to take our position as leading online private capital markets platform to the next level – unlocking investing in private companies to the wider investor community and building out our trust brand."
Beatty also commented:
"I have been impressed how FrontFundr, and most recently SMV Capital markets has led the way in opening access to capital for private companies and investing in the private capital markets for all Canadians. I look forward to working with the team to make this the norm for businesses seeking capital and individuals looking to get access to investment opportunities in private companies."
FrontFundr added it continues to expand in the private capital markets, helping more Canadian companies get funded.