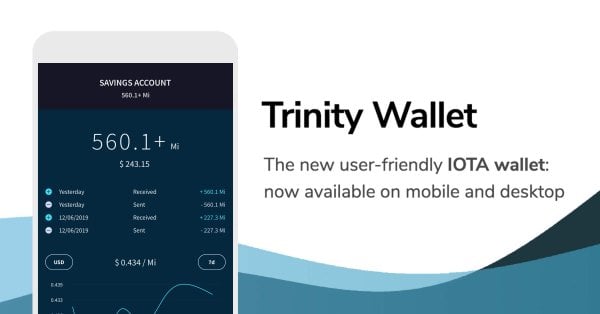 IOTA Foundation, a non-profit foundation focused on distributed ledger technology and permissionless ecosystem development, announced on Tuesday the launch of its new secure and user-friendly software wallet for IOTA tokens, Trinity, for mobile and desktop.
According to IOTA, Trinity offers a host of new features that greatly simplify IOTA token storage, with best-in-class security measures and considerable customizability. The app has been thoroughly reviewed in an extensive auditing process by world-leading cybersecurity firms SixGen and Accessec. While sharing more details about the wallet, Dominik Schiener, Co-Founder of the IOTA Foundation, stated:
"Our industry-leading wallet, Trinity, delivers on IOTA's goal to provide secure, accessible and community-driven token storage for the international cryptocurrency marketplace. We have partnered with our IOTA community to ensure we are addressing the cryptocurrency market's needs with the utmost levels of excellence."
Ethan Dietrich, CEO of SixGen, also commented:
"We are happy to bring our commitment to rigorous security testing and superior wallet security to the IOTA Foundation's Trinity wallet. It is clear the Trinity team takes security very seriously and has applied best practices throughout the wallet's development. SixGen's in-depth review and testing ensures users can store and send tokens with confidence and peace of mind."
Trinity's features include the following:
Hardware wallet compatibility: Trinity is compatible with the Ledger Nano S, X and Blue hardware wallets. When used in conjunction, Trinity and Ledger provide unparalleled security for storing and accessing your IOTA tokens.
Community-sourced design: Trinity delivers bespoke features and innovative design thanks to input and contributions from IOTA's expert user community.
Secure SeedVault digital backup: Trinity uses the recognized security standards of Keepass for encrypted seed backup and features strong multi-level encryption.
Global language support: Trinity has been translated into 25 languages for international accessibility, including English, French, German, Chinese, Hindi, Italian, Indonesian, Japanese, Korean, Spanish and others.
Sponsored Links by DQ Promote