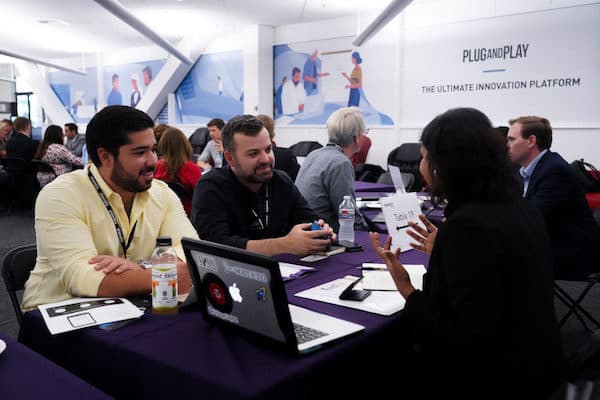 Global innovation platform Plug and Play announced on Tuesday 11 startups have joined Abu Dhabi Global Market (ADGM) Fall 2019 Accelerator program, which is the third fintech and Travel & Hospitality accelerator program.
Plug and Play reported that Plug and Play ADGM kicked off its platform last year, and are currently partnered with Abu Dhabi Commercial Bank (ADCB), BNP Paribas, Boubyan Bank, Etihad Airways, Finablr Group, First Abu Dhabi Bank (FAB), Miral and Riyad Bank. Plug and Play also revealed that the 11 startups that have been selected to participate in the three-month accelerator will have the opportunity to work alongside Plug and Play ADGM's corporate partners for a possibility to execute proof of concept or pilot projects. The startups are the following:
AR4: A augmented reality-based company in

Austria

and Silicon Valley that develops B2B solutions for infrastructure remote maintenance in indoor and outdoor scenarios with head-worn devices.
Bankify: Offers a set of microservices tailored to millennials, which are designed to improve the user experience of their partners' digital and mobile banking solutions.
CyberTalents: A platform that scores and ranks security professionals based on their technical skills by running capture the flag competitions to help businesses find the talent they're looking for. The competitions enable companies to hire talent from the region through practical assessment.
DAPI: Almost every fintech software either requires financial data of its users, or the ability to authorize bank transactions. DAPI has packaged this into one single API that connects fintech apps to banks all over the region. 
E-bot7: A solution integrating AI into existing or custom CRM systems to increase the efficiency of customer service operations. The solution quickly classifies support queries, forwards them to the right agents, and suggests the best answers to each query.
Mostly AI: Offers a Synthetic Data Engine that can be used to unlock data assets that otherwise have to be locked away for privacy reasons. The engine learns the patterns in the original data to create new synthetic datasets, and can thus be used or shared for any purpose without privacy issues.
Road.Travel: A trip planning and dynamic packaging platform (white-label) for airlines, hotels, rental cars, travel agencies, tour operators, automotive & MaaS companies. It creates and personalizes complex trips in minutes and adapts trips to user's budget on the fly.
Steerpath: A universal indoor positioning platform for all venue types. It allows for asset tracking, way-finding, and staff tracking all in a single platform facilitated by wireless infrastructure and calibration-free installation.
Toucan Toco: A data storytelling platform focused on communicating data to management and aligning teams from top decision-makers to operational teams. The company provides a consistent UX, great mobility, and a fully collaborative environment, all centered around the needs of business users. 
Ushur: A service engagement platform that digitally transforms enterprise workflows by automating back-end processes and customer conversations. 
Verrency: A white-label SaaS that is both an API platform and marketplace, operating live in real-time in the payments authorization flow, enabling issuers to deliver both native and fintech services to their customers.