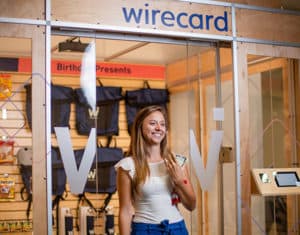 Wirecard, the developer of digital financial technology, is teaming up with HERE Mobility, in order to create integrated B2B2C payment and mobility services. HERE Mobility is HERE Technologies' mobility unit.
HERE Technologies provides location platform services, which are owned by leading automotive firms such as Audi, BMW and Daimler. HERE Mobility runs an open smart mobility marketplace for various types of transportation services. More than 2 million automobiles have been connected to HERE Mobility's Marketplace from countries throughout Europe, Latin America, and the US.
According to a release:
"Wirecard and HERE Mobility will collaborate on … projects aimed at capitalizing on the payment and geolocation services both companies already offer, including innovation cases in the area of predictive mobility services. Wirecard sees 'Commerce on the Move' as a new megatrend and expects a transaction potential of over €10 billion per year via its platform when all services are rolled out."
An initial project involves incorporating the HERE Mobility Marketplace into boon.PLANET, Wirecard's online banking app. Following the integration, boon.PLANET's users will have the option to "search, book and pay for rides using the embedded HERE Mobility Marketplace without leaving the boon.PLANET app," the release noted.
Wirecard says its "intelligent" digital platform will process users' geolocation and mobility profiles for more "value-added services." The company's other projects involve providing mobility services with integrated payment flows for merchants from the travel and entertainment industry. These may include airlines, hotels, restaurants and stadiums, the release stated.
As mentioned in the announcement, the companies intend to work cooperatively to develop personalized data solutions (e.g. predictive ride services) for firms and individual consumers. Wirecard is also planning to serve as HERE Mobility's payment service provider.
The partnership between the two companies comes as MaaS (Mobility-as-a-Service) solutions prepare to enter the global market. Europe's mobility services market is projected to exceed €400 billion by 2030, meanwhile, it will surpass €580 billion in China (according to Statista).
Liad Itzhak, SVP head of mobility at HERE Mobility, stated:
"We are excited to enter into a strategic alliance with Wirecard and benefit from the digital payment expertise they bring to the table. Combined with our smart mobility solutions, we see our joint projects with Wirecard as having an enormous potential to revolutionize mobility services on a global scale."
Michael Santner, VP for strategic alliances at Wirecard, noted:
"As mobility services become a part of consumers' daily lives, and the personal vehicle takes the back seat, we find it essential to be at the forefront of this mobility revolution. Both Wirecard and HERE Mobility will bring the best of their platforms to this cooperation, and we look forward to launching new and exciting projects."
Sponsored Links by DQ Promote