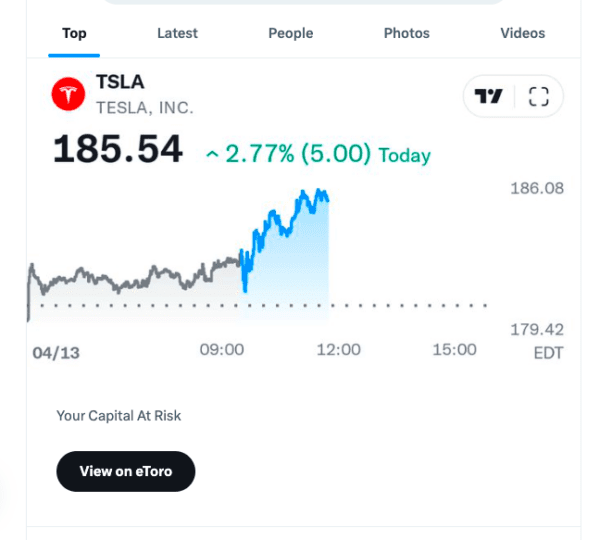 Twitter and eToro have partnered up on financial content. eToro is an investing platform that operates in various markets around the world, providing access to both traditional and alternative access. Twitter is, well, Twitter – the social media best known for its immediacy of information and interaction as well as its colorful owner -Elon Musk.
The new $Cashtag feature will allow users to see live price charts for financial assets, with some available now and more coming in the near future.
Yoni Assia, CEO and Co-Founder of eToro, says financial content on Twitter has become a vital part of the retail investing community. As eToro prides itself in being a "social investing network" the partnership should help drive better results for users.
Twitter originally added pricing data for $Cashtags in December 2022, and the feature reports more than 420 million searches for $Cashtags since the start of the year. Reportedly,  there average 4.7 million $Cashtag searches a day, with activity increasing around prominent earnings announcements.
The most commonly used $Cashtag was $TSLA (Tesla), with $SPY (SPDR S&P 500 ETF) and $BTC (Bitcoin) also ranking in the top 5.
Additionally, Twitter reports that in the first 90 days of 2023, there were 498 million tweets about business and finance globally with 65% of the Tweets were from users in the 18-34 age group.
Chris Riedy, Vice President, Global Sales & Marketing at Twitter, commented:
"Twitter is what's happening and what people are talking about right now. We believe real change starts with conversation and finance and investing is a growing part of that conversation. We are pleased to partner with eToro to provide Twitter users with additional market insights and greater access to investment capabilities. Twitter will continue to invest in growing the #FinTwitter community."
Sponsored