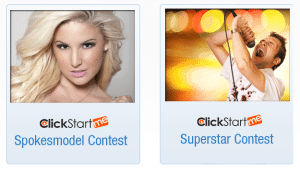 A new and rapidly expanding website, ClickStartMe,  that "puts the fun in crowdfunding" announced a nationwide contest to find a singer, band or musical act to be featured on its website and to be crowned the site's first "Superstar." In this online contest, ClickStartMe is offering 6 musical acts the opportunity to be flown to Las Vegas where they will compete on stage for a $5,000 grand prize and fame as the site's first Superstar.
The six contest finalists will be selected from amateur or professional musical acts that create a free profile on ClickStartMe.com.  Musical acts that create a crowdfunding project on the site will have additional opportunities to win a spot in the Las Vegas finale to be held on February 20, 2013.  Several musicians have already registered for the contest, and many more are expected to enter the contest soon.
"We want to give someone the big break they deserve," ClickStartMe founder Tess Hottenroth says. "Our first music Superstar will have their name, face and music on the front page of ClickStartMe.com, and will have thousands of new fans overnight."
Hottenroth notes that the first Superstar will be given opportunities to work with ClickStartMe's partners and sponsors, and will be introduced to others who crowdfund products, inventions, films and videos on ClickStartMe.com and who may need music to assist with the projects they are funding.
According to Forbes, crowdfunding is a growing $2.8 Billion industry that allows people or businesses to obtain small donations from a large number of people to support a project, cause or other financial need.  On ClickStartMe, crowdfunding musical acts typically give "rewards" or other things of value to donors, such as copies of new music recordings, autographed music paraphernalia and tickets to shows and concerts. Hottenroth points out that musicians have already created crowdfunding projects on ClickStartMe, and some of the rewards are particularly unique.
"One singer is offering donors a chance to appear in the music video she is crowdfunding on our site," Hottenroth says.  "And for a really large donation, she is offering to fly a donor to one of her concerts in Europe!"
ClickStartMe has partnered with the performance-based nightclub The Act Las Vegas where six musical

acts will compete on stage for the grand prize before a panel of celebrity judges and an audience of music industry insiders.  The Act Las Vegas, a destination nightclub with concentric performance platforms that can be viewed from several public or private vantage points, recently opened to critical raves.  Las Vegas Weekly called The Act, "exceptionally provocative, simultaneously sordid, artistic, gruesome, beautiful, raunchy and somehow elegant."

The Act Las Vegas, located in The Shoppes at The Palazzo, is a 9,600-square-foot multi-level nightclub with a stage fitting of a small opera house, five bars, balcony boxes and a private backstage VIP area. Patrons enter through winding narrow, disorienting hallways to reach the main room, where tables and booths overlook a focal point stage rather than a dance floor.

The Act Las Vegas is the latest venture of Simon Hammerstein, a seasoned theatrical producer and artistic director with nearly two decades of experience, who has been featured in Vogue, Vanity Fairand The New York Times.  Hammerstein, whose extremely popular night club/variety theatre "The Box" in New York and London has hosted more than a million patrons, describes his new Las Vegas club as "an opera house, dreamscape and a New York saloon, meets a Las Vegas Wild West kind of concert hall."

ClickStartMe.com is the newest entry into the rapidly growing crowdfunding industry and has created a buzz within the industry's comparatively sterile atmosphere. Unlike its competitors, ClickStartMe.com provides individuals and businesses with an opportunity to easily raise funds online for almost any legitimate purpose, and also gives its users an online store in which to sell their products after funding. ClickStartMe.com also recognizes the mass appeal of television shows such as The Voice, America's Next Top Model, and Shark Tank, and has added this variable into the mix for online crowdfunding by holding contests for its users with valuable prizes and trips to exciting locations.  ClickStartMe.com credits its online Spokesmodel and Superstar contests with driving more than 50,000 unique visitors to its site in less than a month, even before the site officially launched on December 3, 2012

For more on The Act Las Vegas, visit their Facebook page.

Sponsored Links by DQ Promote