Check out the photos from CrowdTilts Crowdfunded New Years Eve party on the pages at BusinessInsider.  Or go straight to the source for Up All Night Las Vegas NYE 2012.  CrowdTilt is a site that allows y0u to Group Fund Anything You Love Simply and Socially.  CrowdTilt is another crowdfunding site up for a TechCrunch Crunchie award this year for Best Start Up of 2012.  No wonder.
This  crowdfunded event from CrowdTilt that raised $62,125.00 out of a goal of over $44,000.00 for the party of the year.  See description below:
The Crowdtilt and Crossroads teams have put together a celebration of epic proportions for NYE 2013, but we need YOU to make it happen!

On December 31st, come celebrate your New Years Eve in style with 130 of your closest friends for all night party in the luxurious, $30,000/night Hugh Hefner Suite at the Palms. Open bar, our own DJ, two jacuzzis (one inside, one outside overlooking the strip)along with the best view in Vegas.  There will be plenty o' bubbly to ring in 2013 on top of the World.

Thanks to the power of Crowdtilt, we can offer you the type of experience normally reserved for Saudi Princes!
Yep – private planes and the Suite at the Palms, plus plenty of stories to share with your friends who were slow to purchases tickets to this event.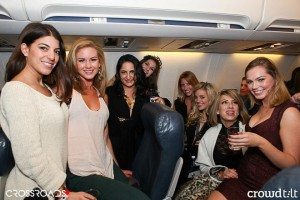 Crowdfunding has altered the landscape for funding for an incredible number of different type of industries.  Partying is just another iteration.  Get ready for CrowdTilts New Years Eve 2014.  My guess it will be even better.

Sponsored Links by DQ Promote