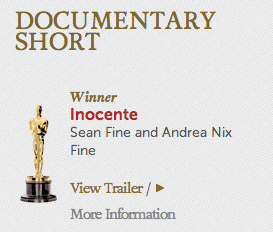 If there's an Oscars-related story more fascinating than Anne Hathaway's unsurprising win for Best Supporting Actress in Les Misérables, it has to be this: a Kickstarter-funded short film has won an Oscar.
Inocente — which tells the tale of a 15-year-old girl in pursuit of her dream of being an artist — won the golden statue for Best Documentary (Short Subject). It had raised USD 52,527 from June to July last year. That's the sixth Kickstarter-funded movie to be nominated for an Oscar — with three of them receiving the nod this year.
The win is further indication of how far crowdfunding has come in the United States, but it also points to the challenges that beset Asia's attempt to replicate the same level of success.
Asia needs its own Hollywood
While the awards ceremony is a celebration of top talent in the American film industry, what is not revealed is that there is a large pyramid of producers, actors, screenwriters, and directors who are aspiring to reach the pinnacle.
Read More at SGEntrepreneurs