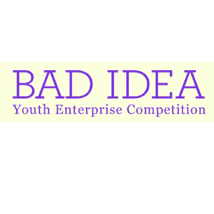 School pupils are attempting to bring 20 innovative business ideas to life with a series of exciting crowdfunding campaigns using crowdfunding platform BloomVC.  As part of the Bad Idea Youth Enterprise Competition the pupils, from schools across central Scotland, have attended a four day enterprise workshop to learn about business strategy from experienced entrepreneurs, culminating in the chance to raise the funds they need to develop their ideas.
Ideas range from memory aiding tools to books, music, a unique water bottle, a baby buggy and festival-ready chic welly boots, and the pupils are looking for funding from a few hundred to a thousand pounds.
A special curated page has been launched to showcase their ideas on BloomVC.
Anthony Gerrard, who developed the Bad Idea programme, says he's not surprised at the inventive ideas created by the pupils.
"

I always believed that young people have wonderful capacities for creative and innovative thinking, but really struggle to be taken seriously or even offered an outlet for their talents, so that is why I created the Bad Idea Organisation," says Gerrard.
"I knew that I had made the right decision when the very first application received was an idea for care homes for dementia patients. At just 14 years-old, James Reid knew all the statistics and figures relating to this hugely important issue. Not something young people usually get credit for caring about!
"After that the ideas flowed, everything from products to services, social enterprises to franchises. Such a wide range of truly creative and innovative ideas! The energy and excitement from everyone involved has been fantastic and made it all worthwhile! But then, why wouldn't you be excited turning your own idea into a reality?
"I'm really looking forward to the next 30 days and seeing them all follow in my footsteps and successfully raise some funding through Bloom to help develop their fledgling business ideas further."
Bloom became involved with the project when Gerrard used the platform to crowdfund the money he needed to create and launch the Bad Idea programme. Just a week after his crowdfunding campaign closed successfully raising £3,000, the pupils were sitting in The Hub in Glasgow learning how to take an idea from concept to reality.

Bloom CCO, Michelle Rodger, and team members, Cara Pleym and Natalie Morrison, spent a day with the pupils teaching them about crowdfunding and coaching them to create their own campaigns.
"Youth enterprise and youth employment are high on our agenda at Bloom. It's important to us that young people – whether in education or not – are given the chance to start a business or launch a community project."It was fantastic to see these young people grasping the concept instantly and then excitedly working out how much money they needed for their ideas and coming up with really inventive rewards," said Michelle Rodger.

"The life skills they learn during a crowdfunding campaign sit proudly on a CV or personal statement, and they can demonstrate tangibly something they have done that has made a real difference."

The pupils have 30 days to share their crowdfunding campaign with as many people as possible to reach their financial target. The projects will all close on Saturday, April 21 during the Bad Idea Awards Ceremony.

Sponsored Links by DQ Promote