Partnership between Kiva and city of Richmond lauded by Virginia Senator Mark Warner and Richmond Mayor  Dwight C. Jones.  Capital One to match Loans for Entrepreneurs from Kiva Platform.
An impressive group of politicians and business leaders announced the launch of Kiva City Richmond.  Capital One Financial Corporation, Senator Mark Warner (D-VA) and Richmond Mayor Dwight C. Jones announced  the initiative that brings crowdfunded loans to entrepreneurs in the Richmond region to start or expand their small businesses.
Capital One has agreed to incentivize the program with every dollar lent to an entrepreneur in the Richmond region will be matched up to $25,000. Kiva City Richmond builds on Capital One's $500,000 matching loan fund commitment to Kiva to help entrepreneurs across the country with funding to start, sustain and grow their businesses.
"The launch of Kiva City Richmond is a great new opportunity for hard-working entrepreneurs here in Virginia to get targeted assistance to grow their businesses," Sen. Warner said. "Kiva is building on its proven track record in microfinance by launching this program which will support entrepreneurship, create local jobs, and continue the revitalization of our community."

"I'm excited about the launch of Kiva City Richmond as this provides another platform for us to advance neighborhood revitalization efforts," said Mayor Jones. "Helping local businesses grow and thrive is also central to our anti-poverty strategy in the city of Richmond and I appreciate Capital One's commitment to this important initiative."

"Richmond is where it all began for Capital One and we're thrilled to expand our partnership with Kiva to launch Kiva City Richmond. Successful small businesses create ripple effects: jobs are created, communities are strengthened and we all benefit," said Jon Witter, President of Retail and Direct Bank, Capital One. "The Kiva City model makes an important connection between local businesses and the people they serve – neighbors helping neighbors and each being a part of the other's success. We're proud to launch a program we know will help local businesses grow and thrive.".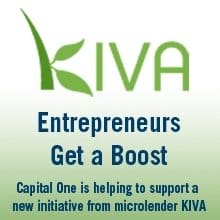 The crowdfunded loans are offered with very generous terms and fill a critical lending gap faced by entrepreneurs who have the plans and the passion, but lack capital to start or expand.
Kiva City Richmond is made possible by several area organizations joining the initiative as Trustees. Trustees are individuals or organizations who vouch for entrepreneurs they know and trust in their community. Once endorsed, entrepreneurs can post their loan request at zip.kiva.org and begin getting their loan crowdfunded by friends, community members and Kiva's growing global community of 950,000 lenders. When the entrepreneur repays, they too, can become a Trustee on Kiva Zip and "pay it forward" by endorsing other small business entrepreneurs in their trust network.
"This initiative gives everyone a chance to invest in Richmond's economy as a lender or a Trustee," said Matt Flannery, Kiva's co-founder and Chief Executive Officer. "Through Kiva City Richmond each of us can support entrepreneurs creating jobs and building the new economy in their community."
Trustees in the Richmond area include United Virginia, Bizworks Enterprise Center, Richmond Craft Mafia, The Center for Women's Enterprise, Women's Business Center, Club de Comerciantes of Virginia, and Community Investment Collaborative.

Earlier this year, Capital One supported the launch of Kiva City D.C., which connects Washington, D.C.-area small businesses with Kiva's global network of lenders, giving small business owners the opportunity to grow and improve their local economies.

Kiva City Richmond joins similar initiatives in Los Angeles, Detroit, New Orleans, Little Rock, Newark and Washington, D.C.

Sponsored Links by DQ Promote