The internet of things and a true smart home environment are coming closer to reality every day.   Energy Aware  with their Neurio Home Intelligence is one of the companies leading the way.  Crowdfunding on Kickstarter now, the project easily cruised past their $95,000 CAD goal as their concept has caught the interest of almost 800 backers.
Neurio monitors how much power homes and individual devices are using, learns how users interact with their homes, and enables the home to communicate with its owner, enhancing the real-time visibility and manageability of the appliances within it. The device measures the home's total power generation and usage and shows which appliance is using power – without having to install individual sensors at each appliance. It can be used by solar owners and installers, energy retailers and finance companies as an end-to-end solution with hardware and cloud reporting, or a software-only solution with its advanced analytics integrated into existing solar web-portals.
"In 15 minutes or less, a Neurio sensor can be installed in any solar home, either on its own, or along with other control systems and devices such as batteries, thermostats, cable boxes, or alarm systems," says Jon Hallam, VP Engineering. "Early customers have saved up to 44% of their total energy usage just by interacting with our user-friendly app on web or mobile."
So imagine if the washing machine you've always used started reminding you when you forgot to dry your clothes.  Or if the stove warned you that you forgot to turn it off.  The Neurio Home Intelligence platform makes any home a self-learning home by monitoring energy consumption and using algorithms to identify usage patterns and potential problems.
"Technology has changed many aspects of the way we live, but how we interact with our homes hasn't evolved significantly since they became wired a century ago. For years, we have been plugging in devices and controlling them manually with switches, knobs, and buttons, and there's a lot more that can be done to enhance our ability to manage our appliances and see them as part of the home's ecosystem," says Janice Cheam, President and CEO of Energy Aware Technology.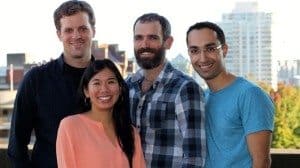 Neurio is a Wi-Fi power monitor and cloud-based platform that measures the home's total power use and shows which appliance is using power – without having to install individual sensors at each appliance. Beta users have saved up to 44% off their energy bills by identifying what they should turn off or unplug.
"What makes Neurio exciting is that it offers something for everyone," says Dr. Ali Kashani, VP Software for Energy Aware, "whether you're simply looking to learn more about the state of your appliances and their cost to run, or you want to use Neurio to fuel your own home automation projects, Neurio gives you full access to your home's power data." Neurio has an open platform with a public API, so it can power new apps and integrate with third party systems designed to automate the home.
With the explosion in solar energy Neurio has incorporated solar support as well.  Owners may now have real time access to how much power their solar panels are generating and how the energy is being used in the house.

Stretch goals are in and if they hit $115,000 CAD they will add European certification to the device.  With an open API any developer can adapt the hardware to extend with any type of service you desire.

Have a crowdfunding offering you'd like to share? Submit an offering for consideration using our Submit a Tip form and we may share it on our site!

Sponsored Links by DQ Promote