Listing Overfunded, Set Goal of £300,000, Hits £450,000 in Less Than 2 Weeks.
Online company records management company Inform Direct  quickly beat their equity crowdfunding target on SyndicateRoom by raising £450,000 representing 175% of their funding target.  The listing, which was initially set to raise £300,000 on the platform, managed to attract notable angels, high-net-worth individuals, and sophisticated investors, who helped the company achieve a remarkable £450,000 in total funding in less than two weeks.  Overwhelming demand for the offering pushed the equity offering into overfunding.    The average investment level captured was over £10,000 and is the fastest deal close on the SyndicateRoom platform.
"Everyone was happy with what we had achieved so recently with the quick closure of Captive Media that we were not expecting to break any of those records so soon but Inform Direct have gone and done just that" says Goncalo de Vasconcelos, CEO of SyndicateRoom.  "It just goes to show how well a sensible business plan backed by a strong and experienced team goes down with our pool of sophisticated investors".

Led by Henry Catchpole, who built Suffolk Life Group from an 8 employee team with £3 million in assets under management to a 200 person team with £3.5 Billion under management, Inform Direct had multiple options for securing the funding needed to accelerate their already revenue generating business.
"We liked the concept of crowdfunding and knew we could easily accommodate a large number of new shareholders having a streamlined facility in Inform Direct for importing their details and producing share certificates.  Indeed, this service is starting to be very well received.  We were attracted to Syndicate Room since they offered ready access to a good number of sophisticated investors who would actively champion us along the way".
Inform Direct is the second largest close for SyndicateRoom in the past month, the first being Captive Media, well-known for attracting numerous angel investors after being turned down by Dragon's Den.  Inform Direct will use the additional funds to accelerate their growth through marketing and product development.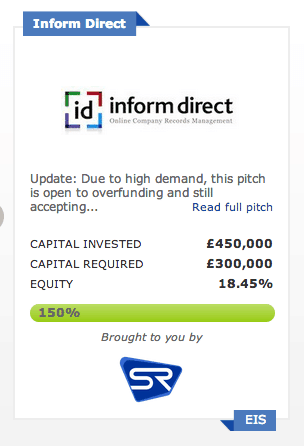 SyndicateRoom has positioned their equity crowdfunding platform to partner with leading UK Angel Investors.  Retail investors are given the opportunity to invest in the same deals as some well known Angels. is the only UK equity crowdfunding platform that focuses on adding value to investors.  We give our members access to invest in start-ups that are backed by some of the UKs leading Business Angel investors.  What's more, as investor on SyndicateRoom you enjoy the same economic rights as the Business Angels so if they make money, so do you. SyndicateRoom provides value to investors by bringing them top-tier entrepreneurs that have secured the backing of at least one Business Angel.  The entrepreneurs may close funding rounds very quickly so that they can focus on customers sooner rather than later, which is the most important thing on a startup.

Sponsored Links by DQ Promote