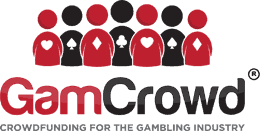 Gambling-focused crowdfunding and crowdsourcing company GamCrowd has a new resource for site users. Their new infographic, which updates once a week shows users various statistics around the investors and start-ups in the crowdfunding area of the site as well as details of the buyers and seller within GamCrowd's crowdsourcing marketplace. Visitors to the site will be able to see how many experts with certain skills are registered, the skills and background information of investors along with the size of the potential pot that our investors are telling us they are willing to put into businesses via GamCrowd this year.
The infographic itself was crowdsourced from one of the experts in the GamCrowd marketplace at a cost of £80 in what Chris North, CEO of GamCrowd, believes is a great illustration of the power of
the GamCrowd Marketplace.
"As we continue to build our business using crowdsourcing I am continually impressed by the speed, quality and cost that our crowd can deliver for us. The design and coding of this real time infographic took less than ten days and I am delighted with the results and the price. "
Some current stats from the new feature:
Number of Members 419
Investors 73
Startups 45
Potential investment available £7.7 million
GamCrowd is a UK based crowdfunding platform that targets the gaming and gambling industry.  The platform is regulated by the Financial Conduct Authority (FCA).