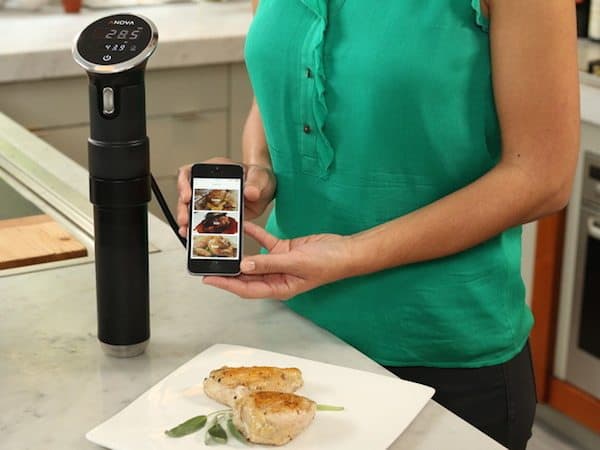 With three weeks remaining, Anova Precision Cooker's crowdfunding campaign on Kickstarter has not only surpassed its initial $100,000 goal, but has reached $1,319,681 from 8,253 backers. The device is said to be used for cooking "sous vide" and allows anyone to produce high-end restaurant quality results.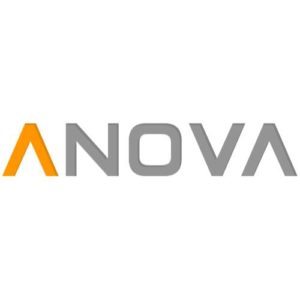 In 2013, co-founders of Anova Culinary LLC Natalie Vaughn and Jeff Wu teamed up to bring their Anova 1 to the market for only $199. The device became the first "affordable immersion circulator for the home chef." While they were success, the entrepreneurs decided they wanted to create something bigger and more affordable to the fans of the Anova 1.
Along with considering price, the company made the device more flexible; connects to iPhones and Android devices; it is also Bluetooth enabled. The makes the Anova Precision Cooker the first cooking appliance that allows users to cook perfect meals with smartphones. All for the price of $149.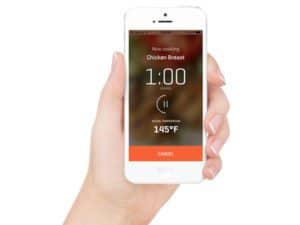 According to its campaign website, the Avova Precision Cooker users just simply attach it to a pot, put food in a ziplock bag and set the time and temperature. The cooker then circulates water around the pot and ensures a consistent temperature. It also connects to user's phone and allows them to cook amazing meals with just a push of a button.
The advantages of the Avova Precision Cooker are its consistency, taste, waste reduction and worry-free technology makes it easy to make delicious meals without overcooking.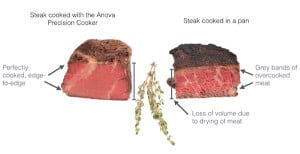 Also sharing the difference between steak cooking with the cooker and steak cooking in a pan, the company noted, "Steak cooked via precision cooking is done perfectly edge to edge. In the image below, you can see that the steak on the right appears smaller. That steak was pan-cooked. In comparison, the steak on the left was cooked by the Anova Precision Cooker and it is consistent from edge-to-edge."
The company added, "It's not just steak, fish, and eggs that come out better when cooked with the Anova Precision Cooker. Chicken comes out moist and tender. Vegetables are bright and flavorful. Pork is tender and juicy. The Anova Precision Cooker can be used on a wide variety of foods and the results are delicious and healthy."
Have a crowdfunding offering you'd like to share? Submit an offering for consideration using our Submit a Tip form and we may share it on our site!