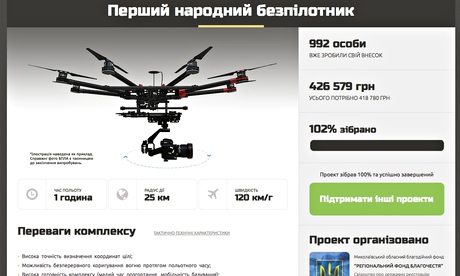 Hoping to avoid more confrontation with Russia, Ukrainian citizens have launched a crowdfunding campaign "The People Project" to purchase the country's first "People's Drone."
According to The Guardian, with Ukraine's army continuing to encounter pro-Russians militants in the East, the country's citizens decided to raise funds to help supply Kiev's beleaguered and badly equipped troops. Over the past three months, volunteers have provided uniforms and bulletproof vests for government soldiers whose army-issue fatigues have fallen apart. Villagers have offered food, bottles of water, and bags of crisps.
The Ukrainian crowdfunding platform stated it has received enough funds for a drone that will be used for reconnaissance in the skies above the rebel Donetsk and Lukansk provinces, along with the Russian border.
The project's organizers originally hoped to purchase a state-of-the-art Israeli drone for $165,000. However they managed to build a device for $35,000. Volunteers and designers build the airframe while a Ukrainian military institute has created the technical equipment.
The city officials noted there is overwhelming evidence that the Kremlin has supplied heavy weapons and even old tanks to the rebels. The drone initiative is one of many patriotic projects to have sprung up in Ukraine, where civil society is traditionally robust. During the anti-Yanukovych protests, a group of women sewed bulletproof vests for those who were protesting on the Maidan, Kiev's central square.
"If we get 20 drones, we will definitely ensure the security of our border," explained David Arakhania, an IT executive from Kiev who founded the platform in March.
Mr. Arakhania noted his previous experience when he saw Ukrainian soldiers serving on the new frontline with Crimea. After Russian troops overran the Black Sea peninsula earlier this year, Mr. Arakhania also visited Chonar, in Kherson province, where paratroopers from his hometown of Mykolaiv were serving.
"We found them in bad shape," Mr. Arakhania recalled. "They were wearing torn bulletproof vests and camouflage gear. So w decided to collect money and buy new outfits for them. After that we bought everything the boys needed.
Along with the drones, Mr. Arakhania's team is also collecting for a second "people's battalion," as well as for a new sniper unit. He added,"Snipers are very efficient in an anti-terrorist zone as they help to prevent big losses. That's why we started equipping them."
Seven volunteers currently run The People's Project, including a former paratrooper who negotiates with arms dealers. Other team members promote the platform via Facebook and Twitter. There are daily updates, with breakdowns of how the cash is spent.
Have a crowdfunding offering you'd like to share? Submit an offering for consideration using our Submit a Tip form and we may share it on our site!