The University of Florida biotech spinoff Prometheon Pharma has announced its Indiegogo campaign to raise $1,000,000 in order to advance development of its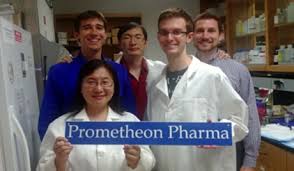 groundbreaking needle-free, temperature stable insulin patches. These patches are expected to replace billions of painful needle injections every year and improve the lives patients around the world with Type I and Type II diabetes as well as those who are pre-diabetic.
Founded by former faculty at UF and Harvard Medical School, Stephen Hsu, MD-PhD, Prometheon Pharma seeks to improve not only individual patients' lives, but also significantly reduce the burden of healthcare costs on nations and society.
"Diabetes and prediabetes is a global epidemic. The treatment method has not made any significant improvements since 1922 with patients needing at least one needle prick per day to as many as five or six," said Dr. Hsu. "They have to carry these needles everywhere they go and if they so much as miss one dose, the outcome can be very dangerous."
Prometheon Pharma hopes that the Indiegogo funding will support costly studies that will allow the company to apply for FDA approval to begin clinical trials on

humans. "We are ready to rapidly move through all the required testing to get into Phase I clinical trials. We chose Indiegogo because we also want to raise public awareness of the personal impact of diabetes alongside the breakthrough technology of the patch. Advocating for patients is a very important mission for us," said Hsu.  The Indiegogo campaign will run until September 8th and offers perks for funders supporting this sustainable healthcare initiative.

According to the press release, "Prometheon's goal is to have the patch available to patients by 2018, which is approximately half the time it typically takes to get a completely new drug to market, since insulin is already FDA-approved with a long track record of safety and efficacy. Prometheon Pharma's patch will continuously and consistently deliver insulin for up to 7 days, and can be replaced at any time to suit user lifestyle and convenience. Insulin delivery can also be immediately stopped by removing the patch, an advantage over oral, inhaled, or injected insulin delivery."
"While diabetes is the first application for Prometheon, a startup housed in the globally #1 ranked Sid Martin Biotech Incubator at the University of Florida. The

patch platform technology would later be applied to vaccines, chemotherapy, and many other injectable drugs," explains the press release.  "Its simplicity, low manufacturing cost and significantly reduced reliance on cold storage also mean that rural and impoverished populations will equally benefit from this disruptive technology."
_____________________________________________
Have a crowdfunding offering you'd like to share? Submit an offering for consideration using our Submit a Tip form and we may share it on our site!