With a little over a week and a half until its crowdfunding campaign on Kickstarter comes an end, San Diego-based OwnPhone's self-titled wireless 3D printed earbuds surpassed its initial $250,000 goal and reached  over $610,000 from close to 3,000 backers.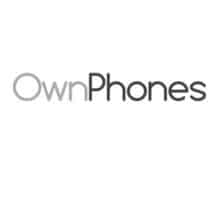 OwnPhones are custom made to be the best-fitting, best-sounding, most versatile earphones anyone has ever worn. They are considered the world's first wireless, 3D printed earbuds that are made to match any personality. The earbuds are also designed to fit perfectly because they are built exclusively for your ears.
With a thousand combinations of features and three different models to choose from, your pair of OwnPhones will be your very own. They represent a combination of the latest 3D printing, Bluetooth technology and personal audio.
According to the OwnPhone team, "Your Fit earbuds are custom designed and fitted to stay in your ear – no matter your activity or workout. Each pair is 3D printed for you, based on a scan of your ears using the OwnPhones app. Plus, they're wireless so there's no cord to tangle or get caught up in your business. OwnPhones feature amazing sound with the versatility of delivering a great stereo experience or functioning as a headset for your car or bike. And they also look great – with smart lines and a smooth finish."
Founder and CEO of OwnPhones, Itamar Jobani, stated, "OwnPhones represents a new paradigm in manufacturing – instead of producing millions of identical earbuds for different ears, we 3D-print earbuds tailor made to each user. Ears are like fingerprints – each one is unique, so we were able to develop earbuds that are custom made to actually fit your ears properly!"
Besides being custom fit, other features of OwnPhones are:
3D Printed: Gives the user a one-of-a-kind earbud that offers a precise fit down to the millimeter. The printer can assemble 3D ojects out of many materials. And this allows the company to match the cartilage in the user's ear and build their OwnPhones, molecule by molecule, one-at-a-time. This allows us to rethink the one-size-fits-all approach that every other company takes and these amazing earbuds are the result.
True-Wireless: The amazing fit of OwnPhones isn't their only innovation. They're also wireless! The earbuds are integrated with Bluetooth 4.0 technology, so there is no cord to get tangled and no plugs to fumble with as you enjoy them.
Soundscaping: Since OwnPhones fit in user ears so well, they can be used to block out noise. But not all noise. A built-in digital signal processor can filter ambient noise. This Soundscaping feature will lower environmental noises like noisy traffic or a crowded restaurant. You can also use the company's app to let through requested sounds – from a beeping alarm to a friend's voice.
Own Status: Using red, yellow, and green LED lights, the OwnStatus feature can let your OwnPhones communicate for you. A red light tells people around you to "Leave me alone," a yellow light says, "I'm busy," and a green light says, "Let's chat."
Versatile Advantage: With OwnPhones, there's no need to buy one set of earbuds that you can use at home or while working working out, and then another set for the car. OwnPhones can function ideally in any situation. Users can use both earbuds when they want to listen to music, and use just one earbud when you need to concentrate on driving your car or riding your bike. Since you have two separate earbuds, the OwnPhones app allows you to push music to one ear and let the world in through the other.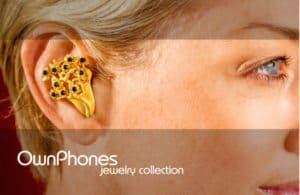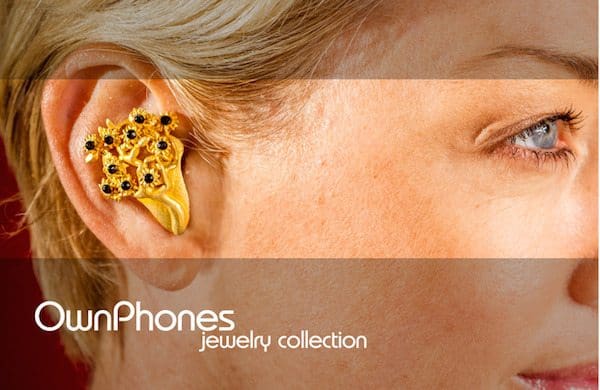 These earbuds come in various collections, including the OwnPhones Jewelry Collection, which will give you a chance to enjoy your music while staying in style. The team wrote,"If you want to express your artistic side and make a real statement, then our jewelry line does just that. This is truly the next level in audio fashion and a great way to turn heads no matter where you wear them. You can choose a unique design or shape; add silver, brass, bronze, and gold plating; or gemstones to give your earbuds some bling.
All funding will go towards:
Design and manufacture additional electronics component (True Wireless Stereo, Soundscaping chip).
Complete a database of fully-scanned ears for statistical analyses. Develop processes for automated photogrammetry correction.
Purchase production-level 3D printers and post-processing machinery.
Have a crowdfunding offering you'd like to share? Submit an offering for consideration using our Submit a Tip form and we may share it on our site!

Sponsored