Vote for Policies, an innovative online voter support service, has crowdfunded £23,551 on Crowdfunder to pay for a state-of-the-art new website to help the British public decide who to vote for in the 2015 UK general election.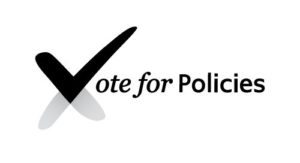 Initially launched shortly before the 2010 UK general election by social change enthusiast Matt Chocqueel-Mangan, Vote for Policies was an unprecedented success, helping 280,000 voters decide their ballot. With this unexpected public support, Chocqueel-Mangan turned to Crowdfunder to raise the £20k-plus needed to expand the service to a reach of five million voters in time for the 2015 UK general election.
Vote for Policies works by allowing members of the public to compare policies between the leading political parties. What makes it unique is that users only discover which party they have chosen once they have completed the online survey. This means votes are based purely on policies, rather than on the personalities of the candidates or political spin.
With over 850 backers funding the project, Vote for Policies now expects to encourage up to five million current and first time voters to re-engage with party politics in a positive and meaningful way.
Speaking about how the project is tackling voter apathy, Chocqueel-Mangan stated,"People obviously really believe in Vote for Policies; so much so that they have put their hands in their pockets to back it for next year. And Crowdfunder has done more than raise funds – it has brought together our crowd. More than ever, I am convinced we can reach our target of five million people for the next election."
Vote for Policies will use the new funding to create a mobile-ready website and more robust infrastructure to cope with increased user numbers. Political parties not currently included in the tool; namely those from Wales, Scotland and Northern Ireland, will also be incorporated. Finally, some of the money will be used for a much-needed digital marketing campaign to promote the service to a wider audience.
However, Matt explained that public exposure is already growing. Vote for Policies has received coverage in publications including Blue and Green Tomorrow and also from notable figures in the media,"It's been just an awesome show of the power of the crowd. We even got a tweet from (Channel 4) television presenter Rick Edwards; this is especially meaningful because Rick recently gave a TEDxtalk on how to get young people to vote, highlighting the importance of online voting tools in that process."
Additionally, the project extended their target on Crowdfunder and reached a stretch total of £23,551. The additional funds (above the original target of £20,000) will be used to add extra functionality to the site. This includes a blog, a news section and a comment function, which will help Vote for Policies engage better with its community. They'll also provide further information on how voters can apply the results of their survey, and the ability for people to share results on their website.
One of the backers of the project left this comment on the Crowdfunding page, "A big congratulations to all at Vote For Policies on overfunding on Crowdfunder. It shows there are a lot of people out there who take their Politics seriously. We found Vote For Policies helpful and informative at the last General Election and will look forward to using it again next year."
Phil Geraghty, Managing Director, Crowdfunder, said: "Vote for policies is a fantastic role model for all projects that want to make their great idea happen through Crowdfunder, it highlights just how many people want to change to the current political status quo. By reaching out to the crowd, this project has shown that the voting population really care about how the political system works and how it needs to be improved."
Vote for Policies is always on the look out for new partnerships and any additional funding it can secure. However, with their initial £20,000 target now met, they have a clear budget to work with and production on the improved site will begin in October. With delivery expected in January 2015, in time for the run-up to the general election in May, Vote for Policies is well on the road to transforming the UK voting scene and helping five million people select their vote.

Have a crowdfunding offering you'd like to share? Submit an offering for consideration using our Submit a Tip form and we may share it on our site!

Sponsored Links by DQ Promote