Turning to the crowd after a devastating flood and fire, an Indiana couple has launched a crowdfunding campaign on Indiegogo called Rebuild Hearts to raise $100,000 to replace the items in their home and business following the damage. In less than week, the project has raised nearly $30,500 from over 1,000 backers with most of the donations coming in $10 at a time.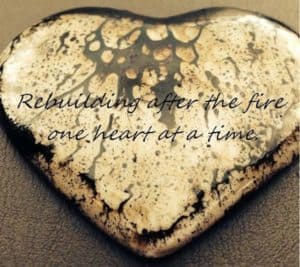 On August 22, 2014, torrential rains flooded rural Northeastern Indiana and up to 10 inches of rain hit the ground within a 24-hour period. Although they had their share of flood experience, Earl and Kathy Gerstorff had never seen this much water in their lives. While surveying the area, Earl noticed smoking coming from the building that was housing both their apartment and automotive shop. He immediately called for Kathy, who was still inside trying to stay dry.
Once Kathy got out of the building, Earl ran in and tried to get their dogs. He revealed his only thoughts were getting his wife our and then his pets. He was taken to a hospital upon exiting the house, where he stayed for two days. The smoke was too thick for the pets to be found.  When the fire department showed up, they were initially unable to reach the burning building because of the flooding water and live electrical lines. The couple's home, along with their fur babies, automotive shop, tools, vehicles and belonging, were lost that day.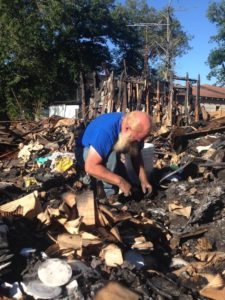 Unfortunately, the Gerstorffs had been working constantly to keep their home and business functioning, which made them make the difficult choice to not insure the property. Currently, the situation has yet to be declared a disaster and the couple has not recieved any rebuilding assistance. This means, with the Red Cross donation of $600, the couple is starting from scratch Even though the fire had happened on that Friday, Kath returned to work on Monday while Earl began to clean up, as soon as the fire stopped smoldering. The couple's first order of business is to get Earl's shop up and running so they can gather enough funds to beginning rebuilding.
Describing the Gerstorffs, the campaign's organizers wrote, "They're the type of people who jump in where there's a need and get things done. They have encouraged many of us and now it's time to give back."
The organizers also noted, "One of the few things to survive are cases of porcelain hearts left by the previous owner. In the midst of the ashes there were thousands of shiny white hearts. Some were unaffected by the flames, but others have designed etched into their surface by the intense heat. The hearts have survived the fire will be Earl and Kathy's way of saying, 'Thank You' to those that support their rebuilding support. Donors can even choose to have custom designs added to their heart by Kathy and her family. Those who know Kathy know that she has authored several books and donated the proceeds to great causes."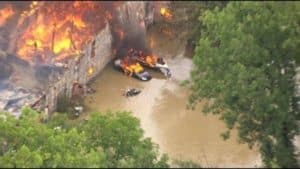 "Even in this time of devastating loss she continues her heart mission of supporting others in need by creating the $50 Pay It Forward donation. We expect this to be the campaign's most popular option because it allows the donor to send customer decorated hearts to a local non-profit (of Kathy's choice) to encourage an unsuspecting recipient."

In an effort to raise the funds, the couple will be selling the hearts at for $1 in hopes that the all the proceeds will go not only to their home, but also to pay it forward to others who have also struggled with similar situations.

During a recent interview, Kathy stated, "We're going to rebuild the same way we started our business. We grew our business with one tow truck and that was the one vehicle he took across was the tow truck. So we're just going to start that way."

"They say home is where the heart is… My cousin posted, she said, 'Earl, there's thousands of hearts out there. Your heart's still there,' and she's right. It is."

The campaign is set to close on October 12th.

____________________________________________________

Have a crowdfunding offering you'd like to share? Submit an offering for consideration using our Submit a Tip form and we may share it on our site!

Sponsored Links by DQ Promote