WeCareCard, a crowdfunding platform that empowers fundraising for a variety of life-changing causes, introduces the first-ever prepaid debit card tied to a fundraising website this week at Money 20/20. The first-of-its-kind patent pending technology will fulfill a campaign's financial component by loading funds onto a WeCareCard Prepaid MasterCard rather than the traditional fulfillment method of check, bank account deposit or PayPal.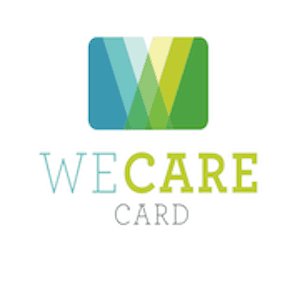 The idea of WeCareCard spurred from co-founders Jessica Weiss, a former nurse who consistently witnessed first-hand financial hardships caused by unexpected medical bills, and Phillip Qualls, a Technology, Payments and Financial Services executive with more than 20 years of experience in the industry.
Qualls stated, "I saw an opportunity to leverage my experience to revolutionize relational giving and gifting by leveraging crowdfunding, prepaid and patent pending technology. Announcing the card at the world's premier destination for emerging payments and financial services organizations, made perfect sense."
The Indiana-based cause-related crowdfunding site delivers a simple, seamless and secure way to share stories of hardships or celebrations, connect networks and gather funds for those in need. The WeCareCard Prepaid MasterCard serves as the money- management tool, welcomed at over 25 million MasterCard locations worldwide. The card will be delivered to fundraisers early in their WeCareCard crowdfunding campaign and funds will be loaded throughout the duration of the campaign, helping fundraisers manage the expenses related to their cause directly, quickly and easily.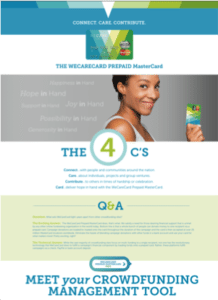 Weiss shared,"After our family suffered hardships associated with long-term illness, I began contemplating how I could help others through similar situations. I knew there had to be a simple, streamlined way to help more people locally, and nationally through an online platform and prepaid debit card."
WeCareCard has retained Atlanta-based FirstView Financial as their card processor and program manager. FirstView excels at innovation in the high-growth prepaid card and mobile payments arenas. Metropolitan Commercial Bank (New York, NY) will be the issuer of the WeCareCard Prepaid MasterCard.
We are very excited to be working with WeCareCard on this new crowdfunding and prepaid solution," explained Jerry Uffner, CEO of FirstView Financial. "This new platform will help serve a very large audience. There are so many people in need of immediate financial relief and we are just happy to be a part of the initiative that will help remove that burden as quickly as possible."