As the city of Ferguson continues to experience riots and devastation following the jury's decision to not indict police officer Darren Wilson for the killing of teenager, Michael Brown, more and more business owners are launching crowdfunding campaigns on GoFundMe for receive more help in repair costs.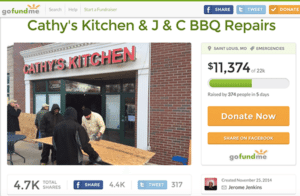 Like other Ferguson business, Natalie's Cakes, which has received over $260,000 since its launch on GoFundMe, Cathy's Kitchen, along with J&C BBQ, hit the crowdfunding platform to raised $22,000 on Wednesday (November 26th). Both businesses were broken into and destroyed by those involved in the Ferguson riots and all the funds will be used to repair the exterior damage, 25 windows, the side of the building and shutters.
Campaign organizer and co-owner of Cathy's Kitchen, Jerome Jenkins, wrote,"I wanted to update you guys and let you know we got Cathy's Kitchen back open and with minor repairs we will stay open! We have a lot more repairs to go with the J & C BBQ and Blues location but clean up has begun. Thanks to all the volunteers who showed up to lean a helping hand and I promise you, we will have this location as nice as ever when we open. Our plans is to open in March if no further delays!"
The campaign has far raised $11,374 from 374 backers.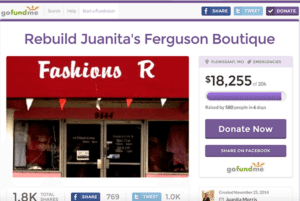 Another business that debuted its campaign on GoFundMe is Fashions R Boutique. The owner of the company, Juanita Morris, looked to raise $20,000 on the platform after her shop was burned down last Monday (November 24th) during the Ferguson unrest. The fire destroyed the building along with all of its contents. Morris explained,"I am not discouraged by these events. My spirits remain very high. No lives were lost and no one was injured in the fire, which was a great blessing.
"Fashion has been a lifelong passion of mine, and I have worked very hard over the years to make my boutique successful. Right now, I am working hard contacting customers, handling paperwork, and trying to rebuild my business. The process of rebuilding will be long and difficult, but we will continue to serve Ferguson, Dellwood, and the surrounding community."
Since its debut last Tuesday (November 25th), the campaign has raised $18,255 thanks to 580 backers.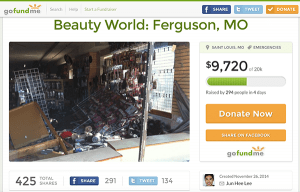 Jun Hee Lee, sought to help his parents business, Beauty World, after the riots caused fire and water damage to the store. The power was then cut because the electric company, Ameren, shut it off as a measure of safety.
He shared, "My parents would like to wholeheartedly thank their customers, neighbors, postal workers, and everyone in the Ferguson community who came the next day with food and water, helped clean up the broken glass, and assisted with boarding up the walls. Words cannot express how grateful they are and I am for all of your help. Thank you! We're also very thankful and appreciative of all the calls, e-mails, and prayers!
"My parents hope to be back in business by Christmas as construction is estimated to take about a month. Every little bit helps, and if you can't donate, a simple share is more than enough. No donation is really expected as we really wrestled with even creating this account, but we do ask that you keep us and this great little city in your hearts and prayers during these trying times. Thank you for taking the time, and we wish you all the happiest Thanksgiving!"
Seeking $20,000, Hee Lee's campaign has already reached $9,720 in just four days.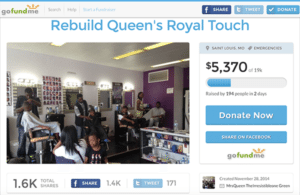 Finally, Queen's Royal Touch is looking to raise $19,000 to help repair the beauty salon. The business' owner, "Queen" K. Barnes-Greene stated, "My two small businesses were burned in the riots. The windows were kicked in, the roof was damaged, the ceiling has fallen, electrical wires are burned and there is smoke and water damage everywhere. Everything was damaged or destroyed in a matter of seconds.
"I started my businesses after I left teaching in 2012 and used my retirement to open up this business. I wanted to show my family that having your own business was attainable. It took a lot of hard work, sweat and tears. It's been truly a struggle and I had to make a lot of sacrifices but it was all worth it. This tragedy has broken my heart, to watch all the sacrifices go up in smoke brought tears to my eyes.  I am trying to not be angry or sad but to forgive, stay positive, and trust God in the midst of it all no matter what it looks like or how others treat us."
The shop has already hit $5,370 from 194 supporters since its campaign appeared on Saturday (November 29th).
Have a crowdfunding offering you'd like to share? Submit an offering for consideration using our Submit a Tip form and we may share it on our site!