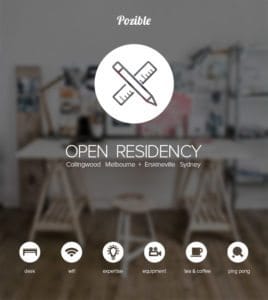 Pozible recently announced it is extending its Open Residency program into 2015.  In an update from Pozible co-founder Rick Chen, he stated they are opening up their office in Melbourne to anyone who is about to launch a crowdfunding campaign – free of charge.
The Open Residency program was launched in early 2014 when the young company moved into bigger offer space with some extra room.  Pozible announced they would allow up to 5 campaigns to hang out and benefit from free wi-fi, desks, whiteboards, coffee, ping-pong and of course the best benefit of all – their intrinsic crowdfunding expertise. While last year's program, which was likened to a medical residency along with the 20 hour work days, was limited to 5 campaigns max – this year there was no mention on how many campaigns would be accepted.

So if you happen to be based in Melbourne and planning on doing a crowdfunding campaign – head over to the Pozible offices in Collingwood and check it out.  If you are based in Sydney – the Pozible team is considering a similar program in the near future.