Last fall, global crowdfunding platform Indiegogo announced its new insurance feature that gives backers ease of mind when it comes to campaign scams. The new feature provides a refund if backers do not receive the finished product within three months of its estimated delivery date.
Now, high-profile campaign, Sondors eBike (formerly known as Storm eBike) has announced its campaign is set to participate in the insurance program. On Wednesday (February 18th), Sondors' Chris Olenik took to the campaign's update section and announced:
"Hi all, just to clarify. We approached Indiegogo about the possibility of insurance, as Indiegogo had offered it in the past to a select few qualified campaigns. As you know, there were some people doubting the campaign's credibility and ability to fulfill. While we welcome scrutiny and criticism when it is due, there was also a large amount of speculation and assumptions being made. We wanted to help alleviate concerns of our backers and potential future backers.

"To be considered for Indiegogo's program, we had to disclose our fulfillment and manufacturing process, which is something that we cannot do publicly. After much dialogue and review, Indiegogo granted the campaign this option.

"Indiegogo's Trust and Safety team has no reason to doubt our sincere efforts to complete the project. This is only the third campaign on which Indiegogo has done so. This is meant to show everyone that we are fully committed to you, the backers and to put an end to the naysayers out there, which has quieted greatly since Demo Day.

"Please note, this is an option, not mandatory and is a sign of our fulfillment process being reviewed by Indiegogo. We are happy about this option as Indiegogo regularly develops and tests new features and we are continuing to work to fulfill our obligations to you, the backers.

"Again, Indiegogo's Trust and Safety team has no reason to doubt our sincere efforts to complete the project.  Finally, this perk insurance is an option available to all backers, current and future. There are a limited number of policies available to any backer on a first come, first serve basis as part of this pilot test. Indiegogo will then evaluate demand for insurance as this test progresses."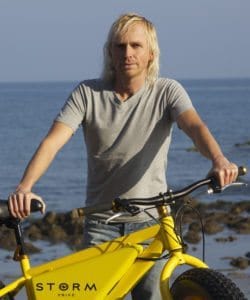 Meanwhile, the project has continued to remain successful despite recent questions surfacing about the viability of the eBike and campaign claims. During the bike's demo, One backer who attended the event stated;
"I was at the Demo ride – my spouse and I were 52nd and 53rd to try it. And we liked what we encountered. The demo bike was described as 99% of what the production bike should be."
Sonders Storm (the company's creator) explained that prior to his bike people did not have access to electric bikes at a decent price and this is going to change this.
Set to close on March 3rd, the campaign has so far raised over $3.4 million thanks to nearly 1660 backers.
Have a crowdfunding offering you'd like to share? Submit an offering for consideration using our Submit a Tip form and we may share it on our site!