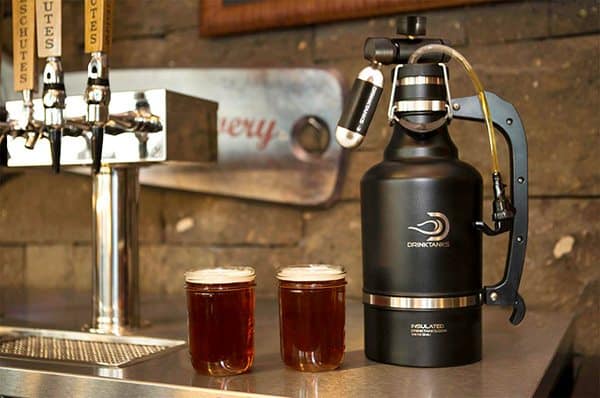 Attention devoted beer drinkers: your prayers have been answered! DrinkTanks, an Oregon-based startup has unveiled the self-titled "world's largest" growler on Kickstarter.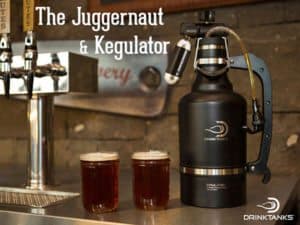 This isn't the first time that DrinkTank has used the crowdfunding method for its projects. Back in 2013, the company launched a campaign on Kickstarter for its 64oz Classic Growler. During its time on the platform, the project raised well over its $30,000 goal ($236,772) from 1,959 backers.
Now DrinkTanks has launched a crowdfunding initiative its two new products – the 128oz Juggernaut Growler and auto-regulating keg cup, Kegulator. The company notes that both products offer the same beer-preserving technologies as their Classic Growler and Keg Cap, but are "twice the fun."
Features of the Juggernaut include:
Interchangeable caps for transport, charging and dispensing
Dual bail closure prevents liquids and Co2 from escaping your growler by holding up to 60 psi
Durable polymer handle and lids
128 oz (1 gallon) vessel can also be used for homebrewing beer and kombucha
Food grade 18/8 stainless steel will not retain or impart odor or flavor
Double wall vacuum insulation prevents vessel from sweating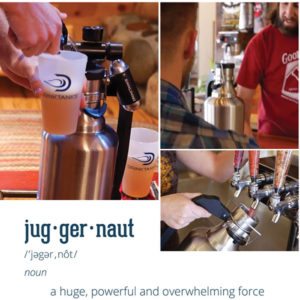 Explaining the Kegulator, the DrinkTank team stated:
"This new cap includes an auto-regulating cap CO2 unit, to keep your growler pressurized, as well as a dispensing tap. The Kegulator turns your growler into a personal, portable mini keg! This incredible technology allows you to control the CO2 pressure for any beverage ranging from 0-40 psi. Home brewers can now force carbonate small batches without having to bottle condition. Kombucha lovers can enjoy full control over their carbonation. The Kegulator is compatible with both our 64 oz and 128 oz growlers."
Kegulator does the following:
Determines exact carbonation with psi gauge
Force carbonate from 0-40 psi with adjustable dial
Its purge valve keeps oxygen out
Used with 16g-74g CO2 cartridges
More importantly: It is compatible with 64oz and 128oz DrinkTanks growlers.
Revealing why backers should help fund its growing company, the team noted:
"DrinkTanks specializes in providing the most cutting edge beverage vessels. We focus on providing quality products that are innovative, easy-to-use, and durable. We pride ourselves in manufacturing responsibly and having a positive impact on the community. Just like our last campaign, this project cannot succeed without, YOU! Tell, EVERYONE! "Like" and "share" our project on Facebook and Twitter or email a link to your family and friends. You can even write it in the sand, in your cereal bowls, or scream it out when you go to the next brewery… every dollar helps! We deeply appreciate all of the support. Our backers put us on the map; now help take us to the MOON! Cheers! Prost! Salute! Slainte! Skal! Kanpai!"
Each Kegulator ($39) and Juggernaut ($69) are expected to be heading to backers in September 2015 and are able to be shipped to anywhere around the world.
Since their debut on the crowdfunding giant earlier this week, DrinkTanks' Kegulator and Juggernaut's campaign has respectfully raised nearly $90,000 thanks to over 700 backers. It is set to close on April 9th.
_____________________________________________________
Have a crowdfunding offering you'd like to share? Submit an offering for consideration using our Submit a Tip form and we may share it on our site!