On Tuesday, a white police officer in North Charleston, South Carolina named Michael T. Slager was charged with the murder of an unarmed man, Walter L. Scott, after a video that revealed exactly happened during the situation surfaced.
According to New York Times, Slager stated that he had feared for his life when Scott took his stun gun during a traffic stop this past weekend. However, the video showed that the officer fired eight times at Scott as he attempted to flee the scene.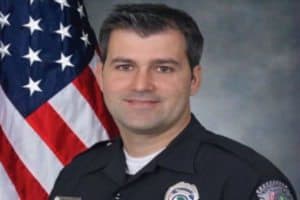 The video begins just moments after Slager fired his taser. The wires appeared to be extending from Scott's body as the two men had a scuffle. Scott then turned to run away when Slager drew his gun and he fired at the fleeing man. He then returned to where the scuffle took place, picked something up, walked over to Scott and dropped the object near his body.
The coroner revealed that Scott was struck five times — three times in the back, once in the upper buttocks and once in the ear — with at least one bullet entering his heart. Police reports stated that officers performed CPR and delivered first aid to Scott, but the video shows that for several minutes after the shooting, he remained face down with his hands cuffed behind his back.
A second officer arrives, puts on blue medical gloves and attends to Scott, but is not shown performing CPR. As sirens wail in the background, a third officer later arrives, apparently with a medical kit, but is also not seen performing CPR.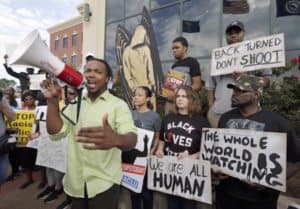 Due to the critical video evidence, Slager was charged for the murder of Scott. While others continue to comfort the fallen man's family, supporters of the accused murderer have decided to turned to GoFundMe to raise funds for him and his family.
Unfortunately for them, the crowdfunding platform has rejected the campaign. According to ThinkProgress, GoFundMe's public relations manager, Kelsea Little confirmed in an email:
"After review by our team, the campaign set up for Officer Slager was removed from GoFundMe due to a violation of our Terms and Conditions."
Little went on to explain that terms and conditions that were breached were not disclosed due to privacy protection. She added that only details about the campaigns may only be discussed with their organizers.
News broke about the GoFundMe rejection on Twitter when the campaign's organizer tweeted about the crowdfunding platform's decision:
GoFundMe rejected the campaign to support Officer Slager. #WalterScott pic.twitter.com/nzJ9hUXWSb

— deray mckesson (@deray) April 8, 2015
Despite being turned away from GoFundMe, the organizer decided to not give up and the campaign was able to receive approval from Indiegogo. The initiative's description reads:
"We're campaigning to show our Support for Officer Michael T. Slager! We believe in all of our LEOs and want to publicly support them! Although he may have made mis-steps in judgement he was protecting the community. Michael is a former Coast Guardsman with two stepchildren and a wife who is expecting a child, served for more than five years with the department without being disciplined. Please help in any way you can. He has served five years with the department without being disciplined."
Since its launch, the project has captured only $60.

Have a crowdfunding offering you'd like to share? Submit an offering for consideration using our Submit a Tip form and we may share it on our site!

Sponsored Links by DQ Promote