PeerIQ, a financial information services company that connects peer-to-peer lending to the capital markets by helping institutional investors analyze, access and manage risk, today announced that it has raised $6 million of seed funding.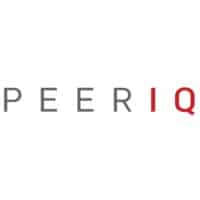 Uprising and John Mack, former chairman and CEO of Morgan Stanley, led the round and were joined by Vikram Pandit, former Citigroup CEO; Arthur Levitt, former SEC Chairman; Dan Doctoroff, former CEO of Bloomberg LP; and Eric Schwartz, former co-CEO of Goldman Sachs Asset Management, among other prominent capital market and technology investors.
PeerIQ will use the funds to further build out its risk analytics platform, grow its institutional investor client base, and expand its team. Its analytics platform aggregates industry data from leading online P2P marketplaces and offers sophisticated credit risk analytics and independent benchmarks that allow investors to: assess loan performance, generate cash flows, value and manage portfolios, run scenario analyses, and price credit instruments. More broadly, the company's offering aims to enhance the efficiency of securitization and other asset-backed transactions that will fuel the next phase of P2P lending growth.
Co-founder and CEO of PeerIQ, Ram Ahluwalia, stated:
"Institutional investors have played an important role in the category by investing at scale via online lending marketplaces. Yet, future growth increasingly depends on expanding access to liquid ABS markets, which will unlock new sources of capital and lower funding costs. PeerIQ is supporting this next phase by providing the independent, institutional-grade analytics needed for efficient deal structuring and better understanding of P2P across new capital markets."
John Mack, former chairman and CEO of Morgan Stanley, explained:
"As more and more institutional investors embrace P2P lending, they are looking for advanced analytics solutions. PeerIQ is creating the first risk analytics platform designed to meet their deal structuring needs, while also helping to drive standards for this maturing asset class."
Managing Partner at Uprising Andy Lam, added:
"We are incredibly impressed by the technical depth and market sophistication of the PeerIQ team and share their vision of the vital role that better data, intelligence and standardization will play in P2P lending. By addressing the investment requirements for many large lenders, PeerIQ will enable efficient capital to enter the sector, create new opportunities for P2P platforms, and generate substantial impact by helping more borrowers achieve their financial goals."
Sponsored Links by DQ Promote