Sharing his thoughts about the growth in small businesses, Indiegogo's CEO Slava Rubin discussed key myths about startups at Vator Splash in Oakland earlier this week.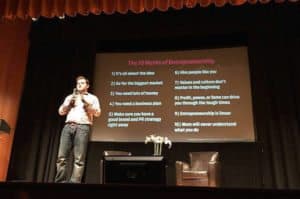 According to the Register, Rubin shared details about each myth, which can be found below:
1. Myth: It's all about the idea
"Ideas are a dime a dozen. It's not like Howard Schultz [CEO of Starbucks] was the first person to come up with the idea of a coffee shop."
2. Myth: Go for the biggest market
Rubin shared that figuring out how to get 100% of a smaller market is going to put the startups in a better place than aiming to grab 1% of a huge market.
3. Myth: You need lots of money
Rubin revealed that the average small business starts with just $6,500; Facebook started with $21,000, according to the CEO. If you decide you need tons of money before you start building your business, you'll never make it happen.
4. Myth: You need a business plan
The crowdfunding platform CEO suggested having a one-page plan to guide strategy is a good idea. While a little on the unrealistic side, Rubin's point is that obsessing over a business plan, or developing a fantasy business on paper, and expecting it to happen in the real world will never happen.
5. Myth: Make sure you have a good brand and PR strategy right away
Rubin noted that the companies that expect glowing press are those that are "product obsessed." In other words, good PR comes when you have something worth crowing about, not the other way around.
6. Myth: Hire people like you
Rubin's suggestion: Don't do it.
7. Myth: Values and culture don't matter in the beginning
Rubin shared if you set an arbitrary line at which you will start thinking about a company's values and culture, you are kidding yourself.
8. Myth: Profit, power or fame can drive your through the tough times
The CEO stated that the only thing that can drive you is passion.

Sponsored Links by DQ Promote