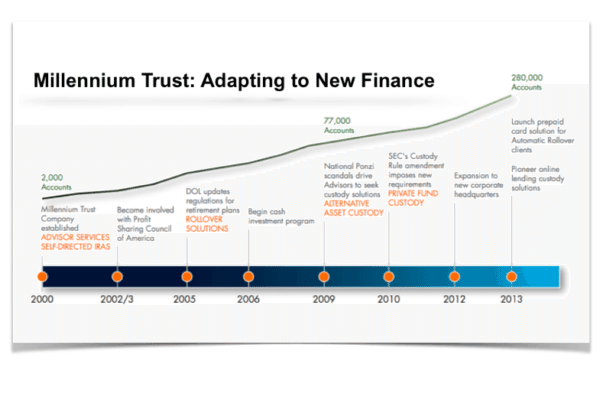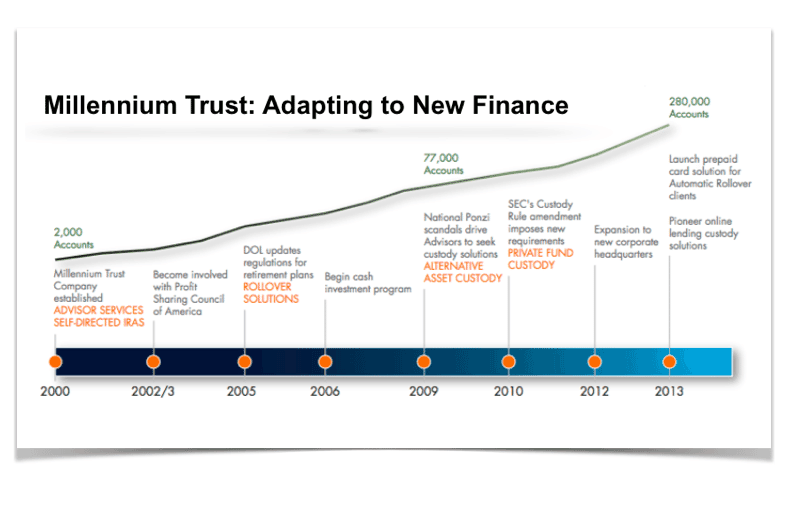 Millennium Trust is a large IRA custodian you probably have never heard of unless you are in a similar business or a client of the firm. Headquartered in Chicago, Millennium Trust operates nationally but has set it sights on getting far bigger. The privately held company has tripled in size in the past three years and they believe this growth is just getting started.  A significant portion of their new business is being generated by targeting new forms of finance, such as marketplace lenders and equity crowdfunding platforms. This nascent sector of finance requires new services to facilitate operations and manage client funds.
Many custodial services are capitalizing on alternative assets today. These include loans, asset backed securities, real estate and more.  They are also doing private equity, precious metals, hedge funds (which make up the most significant portion for Millennium). This push beyond typical stocks and bonds is demand driven. Investors are hunting for better yield are finding success beyond a standard portfolio.
Millennium has been an asset custodian for 15 years.  Previously the company only supported traditional IRAs but about 5 years ago they shifted their focus to the institutional side of the business. Around the same time they became a referral partner with both Schwab and Fidelity which aided in the expansion of both clients and assets.
While Dodd-Frank has been much maligned for its regulatory over-reach, there are some firms that have benefited by newly mandated requirements. Millennium is one of these firms and they have created a private fund custody service for fund managers now required to meet these required rules.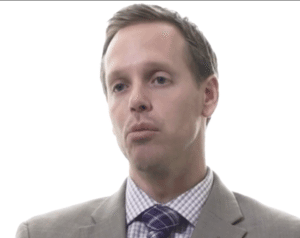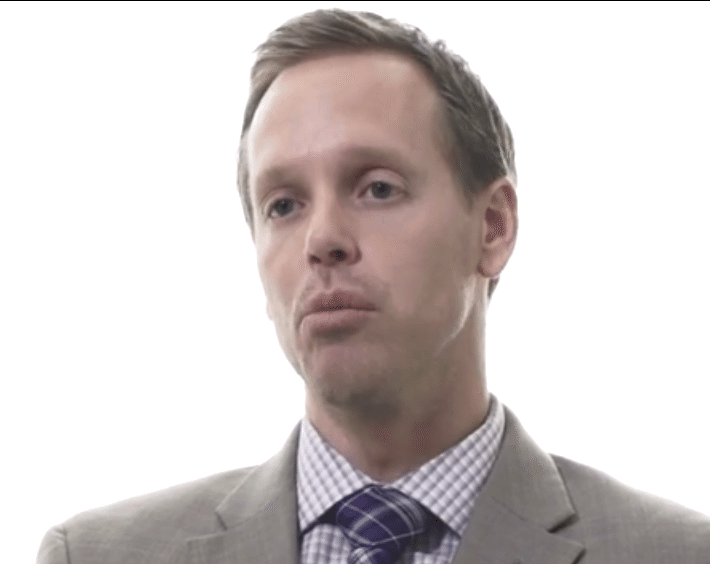 Recently Millennium surpassed $13.5 billion in assets under custody (AUC), $5.6 billion of that was for private funds with $600 million of that arriving in the previous 6 months.  Jeremy Christensen, Director of Private Fund Custody (PFC), commented on the dramatic growth of non-traditional assets – specifically those from the direct lending space:
"The explosive growth in alternative asset classes – specifically marketplace lending – has also contributed significantly to the success of our PFC service. We are a pioneer in creating unique custody solutions for this nascent and rapidly growing space. We are thrilled to be a key service provider for two of the largest players in marketplace lending, as well as a wide range of firms changing the way investors access alternative investments."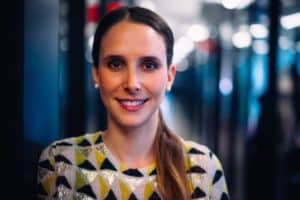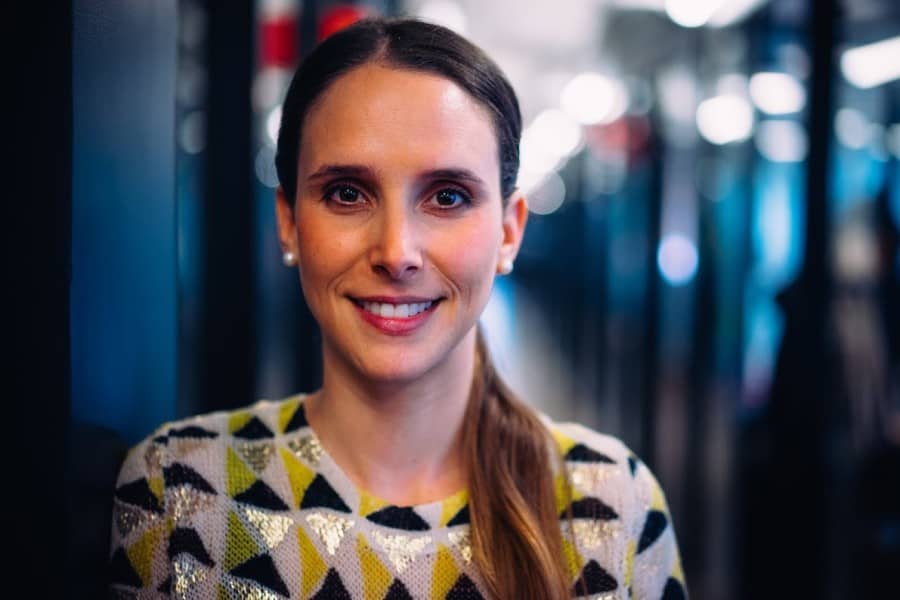 But Millennium is not just targeting the debt side of disruptive finance – they are also working the equity side of the equation, something indicative of its recent agreement to provide its service to OneVest – an equity crowdfunding platform. Tanya Prive, CEO and co-founder of OneVest, said Millennium was the "perfect addition to their platform". She too called Millennium a "pioneer" in the marketplace lending industry.
As the discussion and opportunity surrounding alternative assets grows, services that support traditional investments are seeing opportunity to leverage an established business into a new sector. Millennium Trust is one of the more pronounced providers catering to new finance.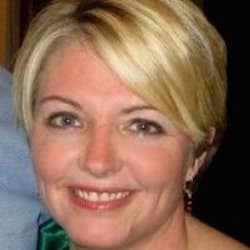 At the Lendit conference this year, Millenium's Megan Zwick, the company's Director of Alternative Custody Services stated, "It's exciting to be a service provider in an emerging industry that has been growing as rapidly as online lending. As it continues to grow, it is important for the industry to adopt a best-practices or 'institutional-quality' mindset with regard to operations."
Regarding Marketplace Lending, Millennium Trust has become a leading provider of both platforms and investors – from the "early days".  Marketplace lending has made the relatively sleepy custody business a lot more exciting.
Crowdfund Insider had the opportunity to speak with Zwick at the Lendit Conference and she provided some interesting insight into an industry that is not typically regarded as sexy but is really doing some cool things in finance today.  A growing number of people need Millenium's services, both domestically and internationally.
According to Zwick it was in 2011 that fortune smiled on Millennium as the largest peer to peer lender in the US came knocking at their door. Lending Club required custody services.  Millennium was ready and willing to provide.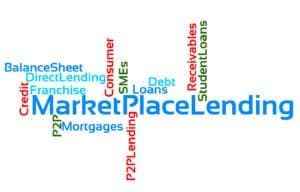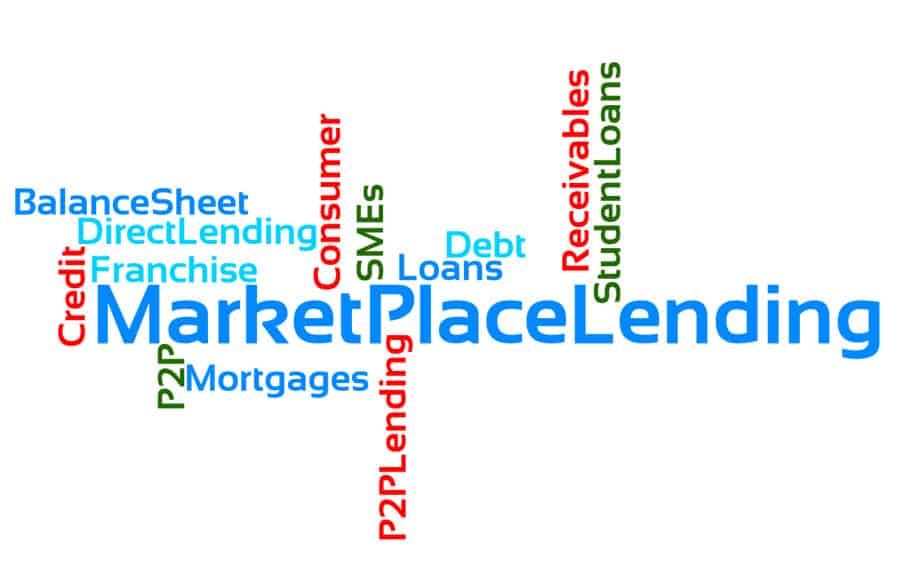 Zwick explained that Lending Club originally approached Schwab who sent them over to Millennium.  This initial partnership with Lending Club has blossomed into an important business as more and more marketplace lending platforms have forged similar arrangements.  As the institutional money started to pour into direct lenders, Millennium benefitted as well. "It has been really fun to see how its changed .. it has completely changed our business and their needs  are driving us to offer new services which is really exciting," says Zwick.  Being first means less competition and more opportunity to establish industry processes. Millennium has become one of the building blocks for the entire marketplace lending industry.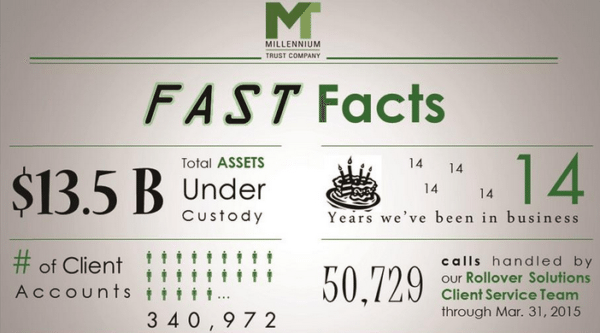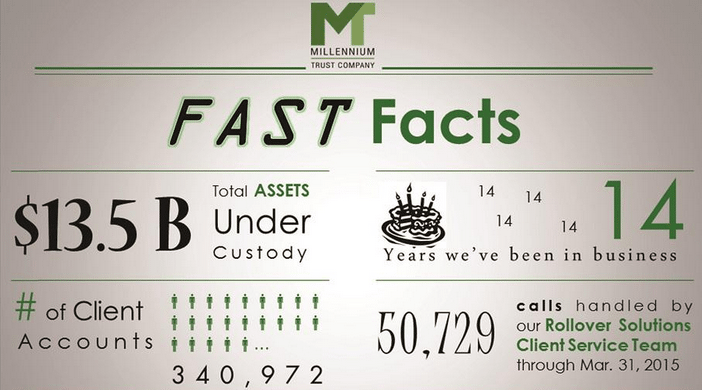 According to Zwick, Millennium Trust feels they "pioneered a solution for [marketplace lenders]" to satisfy their requirements.  Prosper came next. Then Funding Circle US, SoFi and other platforms. Now they are sizing up the UK platforms, Australia, New Zealand, Europe, Asia and beyond. "It makes sense for me that Millennium focuses on the UK, New Zealand and Australia for now" as there is no language barrier.
Millennium Trust is trying to anticipate what is coming around that corner and that is why they are spending time in both Europe and Asia. "It just makes sense to start looking beyond the United States", says Zwick. "It is really exciting to be involved in the space and see the progress."
Asked about expanding into Asia, the largest marketplace lending market in the world (China specifically), and Zwick said they already have Asian based clients they are working with now.  Specifically in China and Japan.  There is a growing amount of Asian capital that would like to move this way, as marketplace lending assets are a solid risk adjusted return type of investment.  Platforms are driving international money to Millennium Trust – a good position to be in today.
International money coming this way but they are not deploying capital the other way yet…
"We've been creative and dynamic. I refer to it as a new asset class but it is really not. It is just packaged in a different way. We are doing what we have been doing for 15 years but we are adapting," states Zwick. "We have seen the benefits about how this has been able to build our business and how we have been able to support it and we will continue to head in that direction."
Asked about biggest challenges and Zwick states:
"Every platform operates a bit differently. We have a lot of providers that engage leverage providers and these providers have different verification requirements, so it is not a cookie-cutter repeatable solution for every single client.  I think this plays to one of our strengths.  We always say we are a boutique firm, serving a niche market, and I honestly think that is part of the appeal.  We are willing to work with clients on their unique requirements."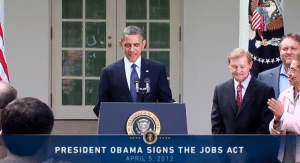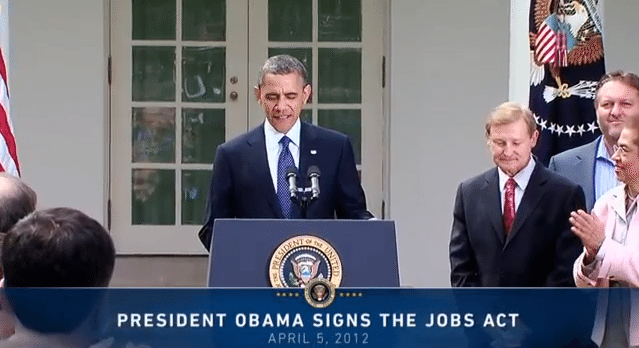 Millennium is also making it easier for individual tax deferred accounts to connect and invest directly with alternative asset platforms like Prosper.  Creating an account with a marketplace lender while setting up an IRA account simplifies the process. They are also speaking with multiple well known platforms on the equity side to create a similar integration.
"We were always watching what was going to happen with the crowdfunding arena and the JOBS Act. We were expecting [the JOBS Act] to definitely create some opportunities for us.  When Lending Club came calling we realized this was a great opportunity to build this out. This was the catalyst to really make things happen. We realized it was the beginning of some very good things."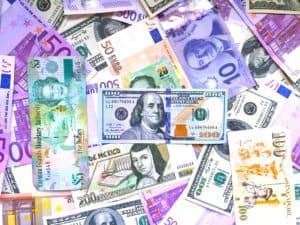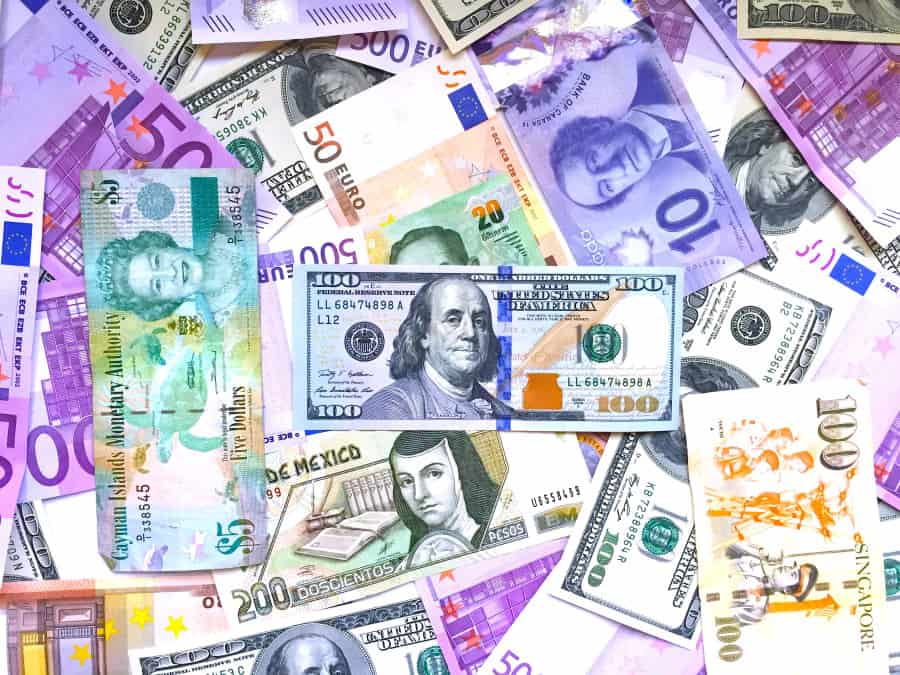 The entire disruptive finance space is  in the very early stages.  Soon enough new finance will become the norm. Being able to adapt to a fast changing industry bodes well for firms like Millennium that are not hobbled by practices of the past. Having a management team that is willing to look at things differently and shoulder the risk it takes to add new services has been a catalyst for growth at the firm. Millennium has a compelling opportunity to break beyond the confines of the US and deliver like type services in many countries around the globe.  Marketplace lending is measured in billions today but most observer expect it to be measured in the trillions in the coming years.
"While we have benefited by being in the space for the past 4 years we know that we have not even come close to the peak yet. We are very excited about it," affirms Zwick.