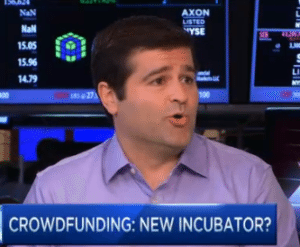 Indiegogo CEO and co-founder Slava Rubin has become a regular suspect on CNBC. Last week he was visiting the studios of the financial network once again touting the power of crowdfunding, specifically in regards to risk mitigation.  This is a common theme in rewards based crowdfunding. Pitching a product or service to the crowd is a good method to validate market potential. While certainly not perfect, it can be a cost effective experiment to gauge interest and hone product specs.
Rubin shared some of statistics from Indiegogo regarding the capital ladder:
32 companies have raised VC funding following successful campaigns
$310 million in total VC funds have been channeled to Indiegogo funded companies
Sleepace raised $7 million in Series B
JIBO raised $37 million
Canary raised $52 million
Indiegogo is seeing a VC investment every two weeks
He notes that Misfit shine raised over $50 million after crowdfunding on Indiegogo. What he did not mention is the fact that Misfit had raised money prior to launching a rewards based campaign. Asked for examples of highly funded campaigns gone bad, a valid query, and Slava keeps on message and dodges the question.
The overall story is that rewards crowdfunding is becoming firmly entrenched as part of the funding process for promising companies. VC's may be slow to change but once they get it, off they go. No word on when Indiegogo is going to offer equity crowdfunding but expect that announcement later this year.
Watch the video embedded below.
---
Sponsored Links by DQ Promote