Apparently Alabama State Senator Paul Sanford has launched a crowdfunding campaign on GoFundMe to finance the state government.  The goal is to raise $300 million.  In the past 5 days 67 people have kicked in $1145 so the campaign has a ways to go.
Senator Sanford appeared to verify that it was really him launching the GoFundMe funding project
Best idea I have had: http://t.co/ht9t86ZgQW

— Paul Sanford (@CitizenLawmaker) August 7, 2015
The campaign description is pretty straightforward;
The State of Alabama is experiencing tight financial times and needs your help. Legislators are debating possible financial solutions but are finding that Raising Taxes are not wanted by the citizens of Alabama. Rather than have the Government come after your hard earned money you can now send an amount that fits your budget, even request where your money be used.
You can determine what functions of Government are a priority to you.
Sanford himself realizes the futility in crowdfunding Alabama's budget stating, "this was to prove a point that most people do not want to pay more taxes but are for taxes when the other guy is to be taxed."
Probably the best part of the Alabama campaign are the comments which have varied from pretty humorous to the inevitable partisan finger pointing.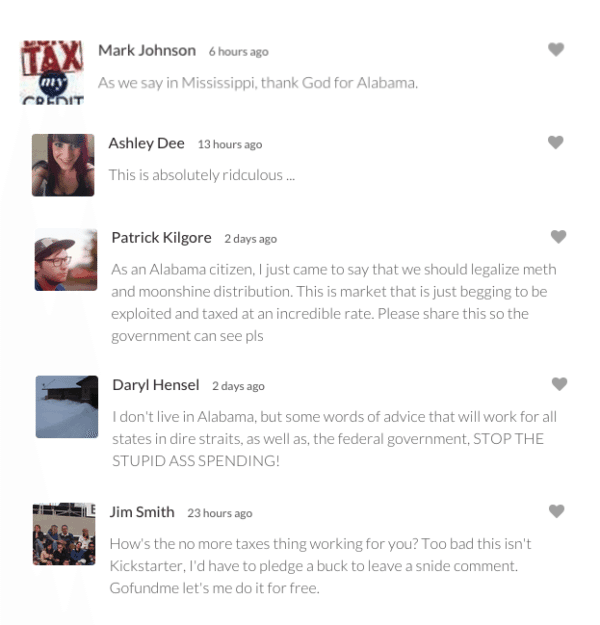 Sanford is right though.  It is hard to raise taxes and once they are in place – even tougher to take away.  So if you want to help out the Heart of Dixie and pitch in to fund Alabama's state government – here is your chance. Otherwise enjoy the comments.

Sponsored Links by DQ Promote